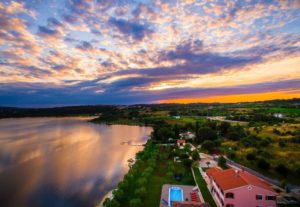 Booking villas in Istria:
If you are looking for luxury accommodation, with a beautiful landscape and a pool, Istria is perfect place for you. You can experience small, traditional villages of stone houses and a warm, blue sea in one of our villas, right on the beach in Istria.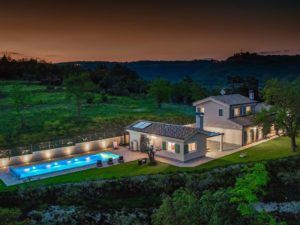 Istria is the largest peninsula in the Adriatic Sea that is located on the north Adriatic Sea of Croatia. Istria is very well connected with the rest of Europe with the Pula and Rijeka airports where the flights are frequent during the season time. It is also connected with a highway.
The most magnificent cities in this part of country are Pula, Poreč, Rovinj and Umag but if you rather prefer small villages with vineyard and olive groves you can rent your villa in Labin or Pižoni.
One of the pearls in central part of Istria is gorgeous village Motovun. Since 1999, Motovun has hosted the international Motovun Film Festival for independent and avant-garde films from the U.S. and Europe. Here you can enjoy a peaceful holiday in a green, hilly environment.
This part of Croatia is usually compared with Italian Tuscany because of hills, small stone houses, traditional souvenir shops, great Mediterranean food and unique nature, but one specialty that Istria has is a crystal and clean blue sea but also wonderful white pebble beaches.
Events in Istrian summer
Another useful information if you would rent luxury villa in Istria is that you can enjoy in many events in all coastal towns of Istria, starting from Opatija, where Habsburg Tsars and Princesses used to spend summers, to opera nights in Pula's amphitheater that is listed as the 6th among the Roman amphitheaters in the world and is the only one that have been completely preserved. During the summer season you can find a lot of events in the walls of amphitheater such as theater under the stars, opera and concerts or cinema under the stars.
Istrian couisine is very well known for black and white truffles and tasty pasta called " Istarski fuži", prosciutto and extra vergine olive oil. Furthermore there are many restaurants with local food where you can completely feel the authentic taste of Istria.
Villas in Istria for rent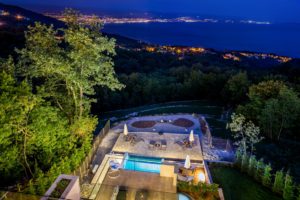 We can offer you seafront villas for rent near the beach where you can enjoy the birds singing in the morning but also modern villas with pool close to the sea, stone cottages with pool in the countryside and hills of Istria and many more.
We have several luxury villas for rent in Opatija in stunning locations with panoramic sea view over the Kvarner gulf.
Planning your trip is easier with Via Michelin road map planner.