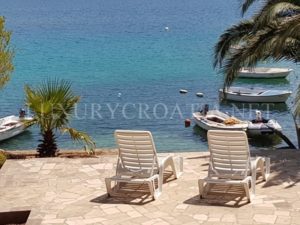 Buying procedure in Croatia is different than the rest of EU countries.
One of differences are related to public notary services.
In Croatia, public notary only verifies signatures at the contract signing, that is, seller's signature is verified in public notary. That's it. But lawyer (attorney in law) will make your purchase contract draft (or pre-contract draft), check seller's property status and documents, and after your successful purchase, register you as new owner in land registry court books and cadaster.
Another one is related to procedure of purchase… after you say: I do (want to buy this property 🙂 then you need a lawyer/solicitor. Lawyer prepares draft of the purchase contract, gets your OIB number (VAT number), put all data about you and seller in the contract draft, we forward to seller the contract draft for reading, after both parties say: yes, we agree… than agency appoint the date of signing of contract. There are several ways to do signing, but let us first find you suitable property, and we'll explain the rest of procedure. It is easy and no risk if you do it with our agency, laws of Croatia applied in every step and with assistance  of your lawyer. We can recommend experienced and reliable lawyer/solicitor.
Third one is related to Croatian real estate agencies. In Croatia agencies are dual. Croatian law on real estate mediation enables agencies to charge commission for mediation services, both from seller and buyer. Amount or percent of commission is not limited. However, it is usually around 6% in total.
In our broker services are included our travel expenses at showing you the inquired properties. Only in cases we need to show you properties on distant islands, travel fee may apply. Also our service includes all advisory and guidance related to purchase process, location information, information about infrastructure on location, all about rental potential of property (in case you buy to rent) with free of charge calculation of Return on Investment.
Before we show you properties you asked for, you are obliged to fill and sign agency commission contract, which we send you by mail. Agency commission contract defines all terms under which the process of mediation we do and determines the moment when buyer pays commission to the agency. It is usually in the moment when buyer pay price of the property to the seller, after purchase contract with seller concluded (signed and notarized in public notary) but can be at the precontract if agreed that way.
Croatian real estate market is partly complicated with a lot title deeds which are not updated and resolved (due to lack of organization of Croatian administration), so many properties have burden of the  unregistered ancestors for few generations backward, which makes these properties impossible to buy, so we do not put these in offers for sale.
We check every property ownership title status and legal aspect and collect documents from owners, inspect the property to be able to present you all positive and negative sides of the property, and to advise you about property's adavntages and disadvantages, concerning your needs and wishes. We also consult with solicitor in case of complications on the property deeds or other documents. If  solicitor confirm that property deeds or other relevant documents are not clean or can not be resolved, we eliminate that property from our offer.
For all your questions, please feel free to contact us.
To check what our clients have experienced while doing process of real estate purchasing with us, read their real estate buyers testimonials.
Check our offer of houses for sale on Solta island