Introducing an Idyllic Seaside Oasis on Hvar Island
Discover a breathtaking 852 sq.m. of prime seafront land nestled on the enchanting shores of Hvar Island. Accessed via a meticulously paved road, this exclusive property offers an unrivaled opportunity for your dream coastal retreat.
This gem comes with the added advantage of water and electricity infrastructure conveniently located along the road, ensuring seamless connectivity to your future residence. Positioned in the coveted first row to the sea, the vistas from this property are simply unparalleled. Price for Croatia Hvar island seafront land for sale is 250 000 EUR.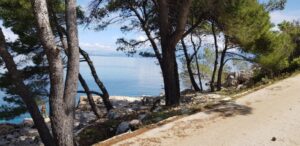 Hvar Island, affectionately known as the "Sunny Island," enjoys an astonishing 2800 hours of sunshine annually, painting an idyllic backdrop for your new coastal lifestyle. The local hospitality industry embraces this unique climate with a promise: if snow ever graces Hvar, your stay is on the house – though this wager is one you're bound to win.
This verdant paradise also benefits from the occasional rain, nurturing lush landscapes adorned with lavender, sage, rosemary, thyme, and picturesque vineyards. Lavender, a symbol of the island, not only graces its fields but also serves as a cherished export.
While exploring Hvar, don't miss out on the island's renowned resorts including the vibrant Hvar Town, the charming Jelsa, the historic Stari Grad, the picturesque Vrboska, and the captivating Sucuraj. Hvar Town, in particular, exudes an allure that has attracted the likes of global icons like Prince Harry, Jay-Z, and Beyoncé, making celebrity encounters a delightful possibility.
The Hvar town has a promenade in the harbor, nesting some small boats and some luxury yachts to create a nice atmosphere in the evening light for a walk around town. The sight that waits for you after the harbor is the St. Stephen's Square, with a St. Stephen's Cathedral and it's bell tower at the end of the main town square, built in the 16th and the 17th century. Not so far away, there is Croatia's first theatre to admire, being one of the first community theatres in Europe as well. Above Hvar town, there is the Fortica- a fortress that was built in the 16th century that will give you some of the best views of Hvar and it's sea surroundings. The main sight to see in Jelsa is the St. John's church, dating back to the 15th century. 
Read more about this property here Croatia island Hvar waterfront land for sale.