About this Property:
Luxury pool villa for rent, Istria
(LP-R-IP)
Luxury pool villa for rent, Istria is located in a small village called Pižoni. It is located in the heart of Istria and has a magnificent view of towns of Motovun and Grožnjan. From the 14m-long swimming pool there is great panoramic view of the valley and forest famous for Istrian truffles. Luxury pool villa offers complete privacy and it is souranded only by nature, no houses around so you can enjoy your peace. This luxury villa is newly built, it is sound isolated and has been built with only natural materials such as wood and stone. Villa has lush green garden with cultivated domestic aromatic plants such as olive trees, rosemary, lavender and sage, giving out incredible scents throughout the day. In front of the luxury pool villa there is a lounge area with sun chairs for sun bathing and large outdoor shower. There is outdoor living area with little tavern that functions as a summer kitchen and features fireplace, a complete bathroom and a separate bedroom. Parking place is available for two cars and it is shaded. Villa is equipted with solar panels and floor heating in all bathrooms.
Luxury pool villa can accommodate up to 6 people. Villa features 3 master bedrooms, all with ensuite bathrooms. Inside the villa there is fully equipped luxury kitchen, dinning room and living room. In the kitchen you can find a large built-in refrigerator, built-in freezer, wine cooler, large microwave, induction cooker, steam oven, coffee machine, kettle and toaster, giving you the opportunity to enjoy preparing meals according to your own wishes. Kitchen is modernly desinged with kitchen island and state of art technology. The living room has two French doors leading to an outdoor terrace and a beautiful lawn. The ceilings are open and decorated with old beams and large crystal chandeliers, and there is large library that features books written on four world languanges so you can find something to read for yourself. You can find many restaurants and taverns in the vicinity of the estate. Many winemakers and producers of top quality olive oil are located in the beautiful landscape of the inland and coastal Istria. Visit medieval towns such as Motovun, Grožnjan, Hum (the smallest town in the world), Oprtalj, etc., with authentic architecture and stunning views and experience the rich history and magic of Istria.
Amenities:
Private pool / Sun deck / Fireplace / Tavern / Outdoor living area / 2 parking places / 3 master ensuite bedrooms with panoramic mountain views / sofa and library / sat tv and wi-fi / Air conditioning / Work area / Iron and board / Clothes dryer / Washing machine / Dinning area for 6 people / Coffe maker / Dishes / Dishwasher / Microwave / Stove and toaster / Built-in pantry / Refrigerator
House rules: Smoking inside the house is forbidden, parties/events are not allowed, pets are not allowed, noise after 11p.m. is forbidden.
Check-in: 16:00
Check-out: 11:00
Max. occupancy: 6
Prices 2018 per day in euro:
January 3rd – May 12th 590€ (min stay 3 days)
May 13th – June 16th 690€ (min stay 3 days)
June 17th – July 13th 790€ (min stay 7 days)
July 14th – August 31st 1099€ (min stay 7 days)
September 1st – September 21st 790€ (min stay 7 days)
September 22nd – October 12th 690€ (min stay 3 days)
October 13th – December 31st 590€ (min stay 3 days)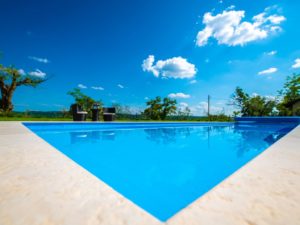 If you are interested in spending active holidays check our offer here: excursions, full day trips, active sports.