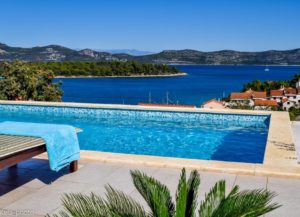 Buying property in Croatia – cost and fees
Croatia – beautiful country to live or retire or just to enjoy holidays
Croatia has much to offer for the property buyer, including an enormous variety of landscapes, a wide choice of unique cities, towns and villages, a great climate, wonderful beaches and crystal clear sea.
Ease of access from the rest of Europe, the clear waters of the Adriatic and an ever-improving infrastructure are good reasons to visit Croatia. Croatia also officially became the 28th member state of the European Union in July, 2013. This is a result of the impressive progress made by the country as an independent state, and definitely helps to promote Croatia tourism-wise.
Is Croatia in EU?
Property market in Croatia became more open to European Union citizens after Croatia became member of European Union. EU citizens are now able to buy on the same terms as local Croats (except agricultural land and land in national parks). This burning of red tape in the buying process is not only speeding up the property buying procedure. It  also encourage more buyers to purchase in Croatia with confidence.
To read more about the beauties of Croatia, please visit our About Croatia Section.
Which way non-EU citizens buy property in Croatia ?
Property buying in Croatia for non-EU citizens  is governed by the principle of reciprocity. This means the right of an individual to buy property on the condition that Croatian nationals are permitted to buy property in the origin country of the purchaser. For EU citizens rule is that they buy in Croatia same way as Croatians, except agricultural land. If foreigner want to buy agricultural land, company has to be formed which will buy agricultural land.
As in all property transactions, the buyer should always use the services of an independent lawyer who acts solely for them. We are glad to recommend experienced and reliable solicitor. It is also essential that the lawyer should speak both Croatian and English fluently.
How to purchase property in Croatia ?
It is important for the lawyer to check that the property's title is clean. Because Croatian families traditionally hand their properties down from father to son for several generations. In some cases the paperwork is either incorrect or non-existent. Our agency checks all property documents to be sure that status and title are clean and without risk for buyer to purchase it.
Survey is somewhat unusual in Croatia. The agency can recommend you civil engineer or architect who can do it. This service, with a proper translation, should cost somewhere around €500 should you require it.
There are two main routes for the purchase of property in Croatia – as a private individual or through a company structure that you set up yourself. There are advantages and disadvantages to both methods. The best solution will be different for each specific case. We are experienced and professional real estate agency and will advise you of the best solution for each individual circumstance.
More about buying process read in our Q&A.
What are Costs & Fees when Buying Property in Croatia?
Estate agents charge  3 per cent of the property's sale price.
Lawyers charge from 0,5 to 1.5 per cent (according to our buyers' experiences). This usually include the Land Registry ownership registration and the preparation of the purchase contract.
Permission from the Ministry of Justice for a foreign national (who is not EU citizen) to acquire property costs around 70 kuna (approximately 10 EUR). We recommend to hire experienced lawyer to prepare application.
The notary's fee is about 200 kuna (30 EUR) and eventually the translator (if required)  approximately 500 kuna (around 70 EUR)
The Land Registrar fee is about 250 kuna (approximately 35 EUR). Check with your lawyer whether this has been included in his or her fee.
Property transfer tax is currently set at 3 per cent, as of the January 2019.  (when was reduced from 4%). Buyer pays this tax. The change of ownership happens usually within 30 days. The tax you pay only by bank transfer in Croatian kuna (HRK).
Registering Croatian company (if buying through the company) – public notary fee is about 500 EUR. Founding capital at company registration is 2800 EUR which you can take out of the company after registration. Monthly fee for a bookkeeper is about 150 eur. Yearly company tax is about 150 eur. Another variant of registering Croatian company is j.d.o.o. (simple limited liability company) that has no founding capital, can be registered in two days.
What  is VAT rate in Croatia?
VAT (PDV in Croatia) is currently 25%. If you are buying new built apartment from the company, you will not pay any property transfer tax because company seller will pay VAT 25% therefore you don't pay tax in this case. In all other cases buyer pays tax of 3% on purchase price.
VAT of 25% is also charged on the services provided by both real estate agents and legal advisers.
Are Croatian Banks approving Real Estate Mortgages for foreigners?
The finance industry in Croatia changed a lot since entrance of the EU. Unfortunately Croatian banks do not recognize foreigner buyers as perspective clients. Only few banks consider foreigner for approving bank loan to purchase property and with very difficult conditions to be fulfilled by the foreign buyer. We recommend for a foreign buyers to look for suitable bank loan in the native country. Number of our German buyers were approved loans from the German banks to purchase property in Croatia. Check this bank details about mortgages.