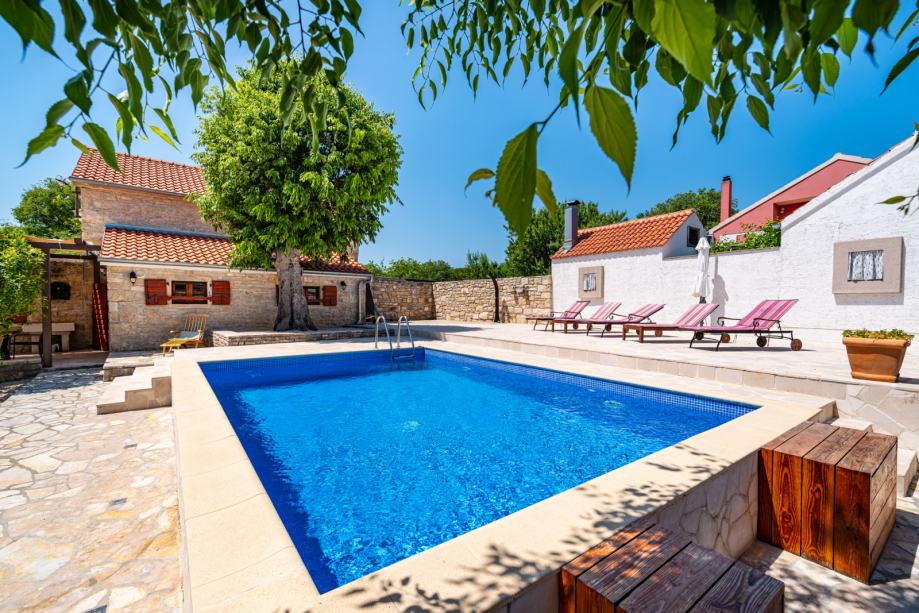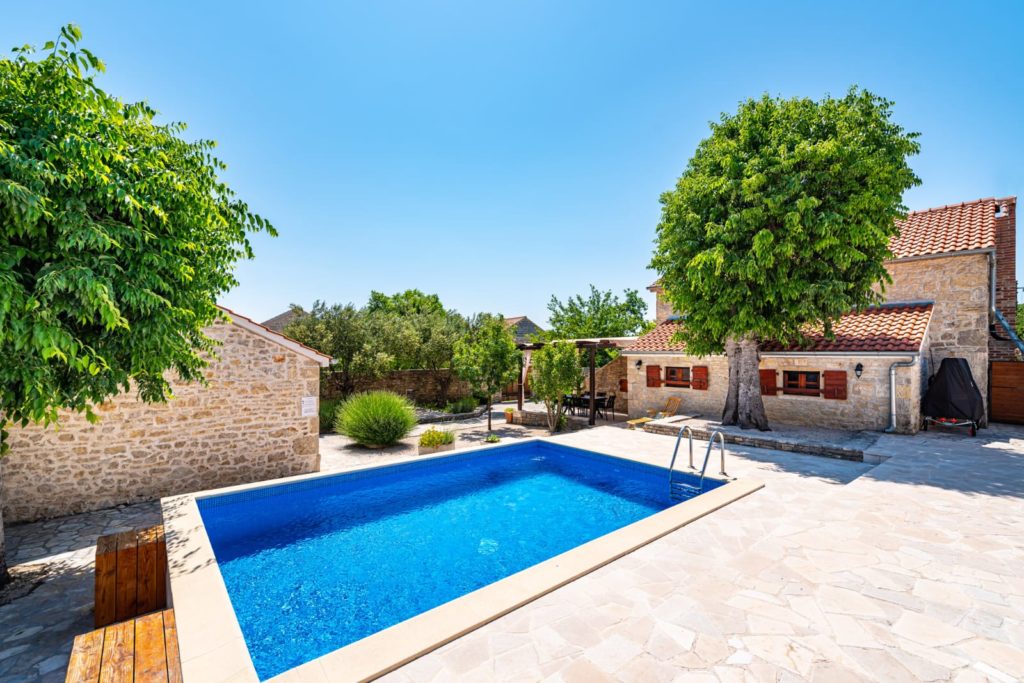 Welcome to a world of endless possibilities! Step into a realm of unmatched beauty as we unveil an exceptional Croatia Zadar area stone pool houses that will captivate your senses. Nestled in Croatia's Zadar Nin area, this renovated stone estate presents a rare gem—a harmonious blend of tradition and modern luxury. With two exquisite houses and a mesmerizing pool set on a sprawling plot of 950 m2, get ready to be enchanted by the sheer magnificence of this remarkable abode spanning approximately 150m2 of meticulously renovated living space.
At the heart of this captivating property lies an inviting pool, gracefully nestled within a serene courtyard that connects the two houses. Immerse yourself in the serenity of outdoor living, where relaxation and tranquility become a way of life. Imagine savoring delectable cuisine and indulging in al fresco dining experiences against the backdrop of a delightful outdoor fireplace—a picturesque setting that will leave you breathless.
What truly sets this property apart is its remarkable potential for generating revenue through tourist rentals. With a strong foothold in the local tourism market, this investment opportunity promises lucrative returns. With comfortable accommodation for up to nine guests, you can capitalize on the thriving tourism industry while embarking on a sustainable and prosperous business venture.
Discover the perfect harmony between tranquility and accessibility in this secluded haven, a mere 10 kilometers from the historic town of Nin and a convenient 15-minute drive from Novigrad. The vibrant city of Zadar, brimming with cultural wonders, tantalizing gastronomy, and exhilarating entertainment, awaits just 36 kilometers away. Within the charming village, you'll find convenient amenities like shops, a pizzeria, and quaint cafes, adding to the allure of this location. A leisurely stroll will lead you to the nearby beach, allowing you to bask in the awe-inspiring natural beauty and immerse yourself in the crystal-clear waters.
This extraordinary property boasts a plethora of notable features, ensuring a life of utmost comfort and efficiency. Revel in the warmth of efficient floor-to-ceiling central heating, powered by a seamless connection to a 2.7 kW solar power plant integrated with the public grid. Stay cool during the balmy summer months with three air conditioning units strategically placed throughout the houses. The meticulously maintained swimming pool, equipped with a cutting-edge heat pump, provides both heating and cooling capabilities, ensuring year-round comfort. Maintenance is effortless, thanks to the 30m2 basement housing all the necessary pool equipment. Additionally, a generous 40m3 water tank is conveniently situated within the yard, guaranteeing a reliable water supply regardless of the season. Your privacy and security are further assured by a solid 2-meter high stone wall encompassing the entire land plot.
Offered at an irresistible price, this exceptional property represents not just a lucrative business opportunity, but a sanctuary for those seeking solace, nature, and proximity to the sea and pristine beaches. Situated just a few kilometers from a highway exit and a short 35 kilometers from Zadar International Airport, effortless connectivity awaits for both domestic and international travel. The price for this Renovated Stone Estate with Pool in Croatia's Zadar Nin Area is 390,000 EUR.
Embrace this extraordinary opportunity to own a truly exceptional property that seamlessly combines business potential with a serene coastal lifestyle. Don't delay—reach out to us today and secure your slice of paradise!
Read more about this property here Croatia Zadar Nin area renovated stone pool houses for sale.
Read more about Zadar area here.