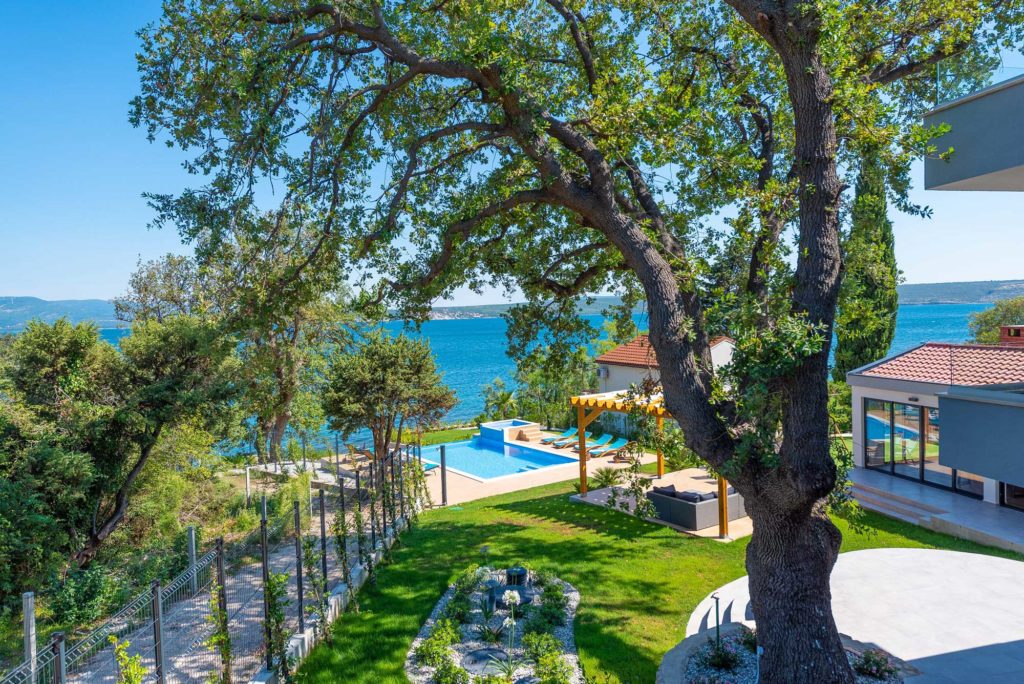 Check out this completely private Croatia Zadar area waterfront pool villa for sale nestled in a secluded cove, surrounded by abundant natural wonders, this private oasis promises an experience of pure bliss from the moment you arrive.
Located just a short distance from the charming village, a mere 20 km away from Zadar, this villa is a haven of peace and tranquility. Picture yourself in a world where time slows down, where old-world charm gracefully blends with modern luxury. As you step inside, you'll be greeted by a haven of relaxation on the ground floor—a wellness area complete with a fully equipped gym, a traditional sauna, and a rejuvenating 6-person jacuzzi. Imagine dimming the lights, opening the glass doors to embrace the crisp night air, uncorking a bottle of champagne, and surrendering all your cares to the ethereal surroundings.
The main floor reveals an inviting living and dining area, alongside a well-appointed kitchen and two exquisite bedrooms. The seamless open floor design allows for effortless movement between the dining room, kitchen, and the spacious living room, fostering a sense of togetherness and comfort. Each of the bedrooms exudes opulence, adorned with luxurious queen or king-size beds, en-suite bathrooms, and a cozy reading desk. Ascend to the top floor, where three additional bedrooms await, along with a bar lounge—an entertainment haven for everyone. Spanning across three floors, this magnificent villa boasts five bedrooms, each with its own bathroom and direct access to two sprawling balconies that offer breathtaking panoramic views of the majestic sea and mountains. With a generous living space of 320 sq.m. and nestled on a vast land plot of 1243 sq.m., this Croatian gem promises an extraordinary lifestyle.
Lose yourself in the lush gardens that surround the villa, where you can relish in ample shade, delight in a summer kitchen complete with a traditional brick oven/grill fireplace, and indulge in al fresco dining and lounging areas. This outdoor paradise is not limited to culinary adventures—it also boasts a billiards table, darts, and a large flat-screen TV, ensuring endless entertainment. Even if the weather takes an unexpected turn, worry not, as the large glass sliding doors can enclose this space, allowing you to revel in its delights regardless of rain or chill. Meanwhile, children will revel in the joyous playground, equipped with a slide, swings, and an array of amusements.
As you meander through your private garden, past the infinity pool and sun decks, a mesmerizing sight awaits you—a pristine pebble beach with crystal-clear waters. This idyllic beach, accessible exclusively to the villa's owners through a direct garden exit, offers a serene escape from the world. The neighboring house, seldom occupied by its owner, also has access to this beach, ensuring a peaceful ambiance. Absorb the serenity of this secluded paradise, as no other houses grace your line of sight.
Beyond the villa's boundaries, a myriad of activities awaits. Embark on an exhilarating excursion to the renowned Kornati National Park, where breathtaking natural wonders abound. Unleash your adventurous spirit with a thrilling jeep safari through the awe-inspiring Velebit mountains, or embrace the beauty of nature through hiking and cycling. For water enthusiasts, an array of water sports beckon, promising an unforgettable experience. And when you yearn to immerse yourself in the rich history and vibrant Dalmatian culture, the nearby city of Zadar invites you to explore its treasures.
Conveniently located just a 15-minute drive from Zadar's international airport and the bustling town itself, this waterfront villa offers unparalleled accessibility. To discover the price of this magnificent Croatian gem, inquire within and let the possibilities unfold.
Zadar. International airport Zadar is 15 minutes drive, so is town of Zadar. Price for is Waterfront villa for sale with pool Zadar area Croatia is on request.
Read more about this property here Croatia Zadar area waterfront villa for sale with pool.