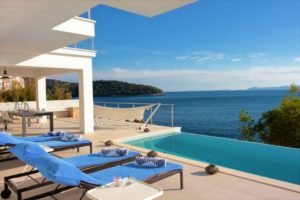 We have large offer of villas for rent Korcula island Croatia. Korcula is one of the most beautiful islands of Croatia. Crystal clear and clean seawater is healthy for swimming. Seashore is mostly rocky but there are fine pebble beaches everywhere, most of them are accessible with car and usually, there will be no crowd or no one on the beach but you.
Korcula town is amazing, it is not possible to describe the beauty of this town which historical heritage dates from Old Greek times. We believe that Odyssey was here, in his time this island was named Korkyra.
We have a wide range of beautiful villas on Korcula island, from top luxury villas with pool on the seafront, to stone cottages for rent on Korcula.
Island of Korcula is not so small but also not too large. Driving from Korcula town on the southeast side of the island to the other side, far northwest where is Vela Luka town will take 50 minutes.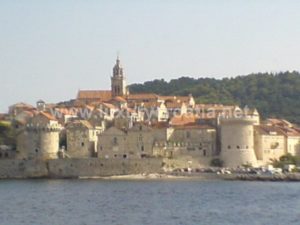 Korcula old town is walled with fortresses. Inside there are narrow stone streets, churches, old stone houses with authentic look for centuries, preserved completely. In the summertime, there are a lot of restaurants serving local food and local wine.
Town of Vela Luka is on the other side of the island. It also has old town laid along the wide bay which was a place to moor ships, and today it is ferry port for ferries and catamarans going from Split to Vela Luka and to Dubrovnik.
There are a lot of small coastal villages with stone houses nestled in the pine woods on the hillsides, with beautiful beaches.
The most beautiful villas we have on this island of Korcula. We have several seafront villas with pool for rent Korcula Prizba.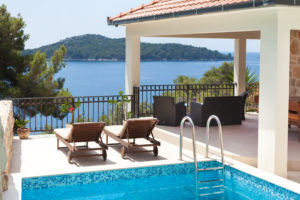 Also in our offer is a luxury beachfront villa Karbuni , with a large 100 square meters pool and panoramic sea view. Vela Luka is 10 minutes drive.
Korcula island villas are located in green surrounding and quiet places with sea view or directly on the waterfront with pool. Villas accommodate from 6 to 16 persons, some are pet friendly, some have disabled persons access, some are directly on the beach so kids can play in shallow water in front of the villa. Most of villas have pool or whirlpool, sea view or are directly on the sea front.
Korcula is green island, with beautiful landscapes, crystal clear and clean sea water which is warm in summer months and healthy for swimming.
How to reach Korcula find in ferry schedule on Jadrolinija.