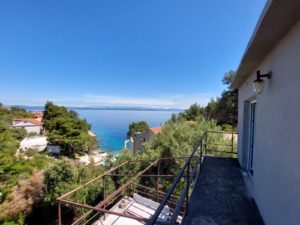 Immerse yourself in the enchanting beauty and serenity of coastal living with this exquisite seafront residence in Korcula, Croatia! Prepare to be captivated by its idyllic location, nestled alongside the sparkling sea and offering mesmerizing views of the surrounding islands. This remarkable Croatia Korcula island waterfront home for sale boasts a thoughtfully designed interior, spread across two floors, with recent renovations that have enhanced its allure. A unique opportunity awaits those seeking a home that seamlessly blends comfort and tranquility.
As you explore this coastal gem, you'll discover a ground floor featuring a charming summer kitchen and bathroom. While this level presents a wonderful opportunity for renovation, the first floor offers a delightful living room, bathroom, kitchen, two bedrooms, and a terrace. The first floor has already undergone partial renovations, ensuring immediate comfort and functionality. On the second floor, you'll find an inviting living room, kitchen, bathroom with a storage room, two bedrooms, and a balcony. Although the interior of this floor requires some finishing touches, the potential for creating your dream space is undeniable.
Externally, the house has undergone partial renovations, exuding a blend of timeless charm and modern aesthetics. Its prime location, nestled amidst lush greenery, guarantees utmost privacy and showcases breathtaking sea vistas, mere steps away from the crystal-clear waters of the Adriatic Sea. Beneath the house, a small pebble beach awaits, adding an extra touch of coastal allure.
This property holds excellent potential for a lucrative rental business. With three apartments available for lease to tourists after renovation, it becomes a self-sustaining investment that promises substantial rental income. As a travel agency, we can assist in calculating the potential returns on this seaside retreat, further emphasizing its appeal as an exceptional investment opportunity.
Indulge in the awe-inspiring panorama of the sea and neighboring islands from your private terrace, creating unforgettable memories against the backdrop of breathtaking sunsets. With both floors partially renovated and a summer kitchen on the ground floor, this house is ready to become your ultimate Croatian oasis. Don't miss out on this extraordinary opportunity. Act now and transform this Croatia Korcula island waterfront home for sale into your very own slice of paradise.
Read more about this property here Croatia Korcula island seafront house for sale.
Read more about Korcula island here.