About this Property:
Holiday house for sale close to the island of Murter
(HO-RM-DS-01)
Holiday house for sale close to the island of Murter in Middle Dalmatia. House is located on island Radelj, which is located 15 minutes with a boat from Murter island and Betina, as well as the National park Kornati, located two hours away with a boat. The house is equipped with a satellite TV, refrigerator, air conditioning, internet, kitchen, two bedrooms with two double beds, a toilet with a shower, a big terrace with eaves, a barbecue made up from stone with a big table in front of it ( the other terrace). Recommended for those who are searching for their own peace and relaxation in the summer. There is an available entrance to the sea, being sandy from the end of the riva. Along with the peace and quiet of this location, the sea is amazingly clean in this area, making this a paradise for a relaxed holiday in unspoiled nature. There are no neighbors nearby. The house has a desalinizer for drinking water (300 lit a day), electricity from solar panels 24 220 380 volts.
Proper documentation obtained.
This detached house sets out over 65 square meters of residential area and the croft takes up to 2300 square meteres.
The house is newly built (2006), located on the ground floor and it has 2 bedrooms.
The infrastructure is fully completed, parking provided, and the permits obtained (Building permit, usage permission, location permit and certificat of ownership).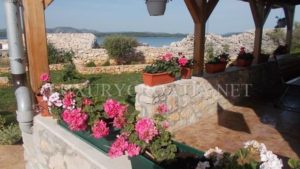 The city of Vodice is located nearby. Vodice is a tourist destination located by the sea in a bay, not so far away from the town of Sibenik ( around 10 km). The city is rich with water and that is exactly what gives it its name- Vodice which could be translated to "Small waters". Vodice is an ideal destination with vivid summer nights and rich offer where everyone can find a bit for them own self. If you are looking for an active vacation, Vodice is perfect for you, and to prove this, Vodice received an award named "The flower of tourism" which is given to destinations that have a specially attractive tourism offer. There are many sports that you can engage here, such as volleyball, basketball, soccer, cycling, diving and others.
If you want to know more about Vodice, click here: Vodice