About this Property:
Croatia Sibenik Murter area stone sea view house for sale
Croatia Sibenik Murter area stone sea view house for sale has 75 square meters and it is located only 30 meters away form the sea.
House is located in a small, quiet, and peaceful street. House consists of a bathroom, kitchen, dining room, 2 bedrooms, and an attic. It has water and electricity connections. House is completely renovated in 2019. Price for Croatia Sibenik Murter area stone sea view house for sale is 125 000 EUR.
Sibenik is a historic city located in the central part of the Croatian coast on the Adriatic sea where the beautiful river Krka flows into the Adriatic. It is a centre of the county of Sibenik and Knin and it extends along the 100 km long coastline from Zadar to Split while laying under the Dinara mountain in the hinterland area. When Sibenik was given the official status of a town in the 13th century, the construction of today's symbol of Sibenik began, the cathedral of St. Jacob. This cathedral in under protection of UNESCO since 2000, due to how unique and complex the construction of the same was. Besides this cathedral, there is a number of churches to explore in Sibenik, some of which have been transformed into galleries, museums or other spaces. The city centre is, just as other Dalmatian centres, characterized by the narrow Mediterranean streets and old houses.
LuxuryCroatia.net is Real Estate Agency that has 10 years of experience in sale of all kind of Croatian properties. Our small but dedicated team of experts can search and find your adequate property, if you can't find it in our listings of more than 1500 Croatian properties for sale. We are locals, Croatians, with experience in sales of properties and have visited all Croatian coastal and island destinations and locations, so that we can help you with advice about amenities of location that is of your interest. We know every inch of our country, every village, bay, island, we are proud of Croatian rich heritage and history.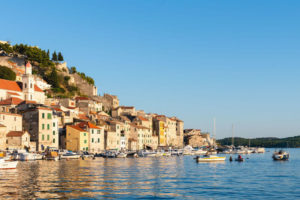 Find your route to Sibenik here.
Find out more about buying property in Croatia here.