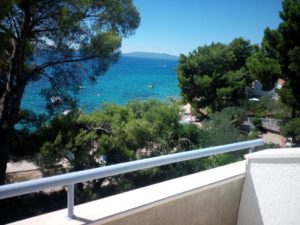 Indulge in the epitome of paradise with this Croatia Sibenik area seafront residence with boat mooring for sale, a true gem nestled along the breathtaking shores of the Sibenik area in Croatia. Prepare to be captivated by the sheer beauty of this luxurious beachfront property, offering an unmatched level of privacy on its expansive terraces and within its meticulously landscaped garden. Step outside and immerse yourself in a world of tranquility, mere steps away from the azure sea, where every morning unveils awe-inspiring vistas of the enchanting blue waters and picturesque islands.
Spread across four magnificent floors – basement, ground floor, first floor, and high attic – this remarkable residence spans an impressive 390 m2, complemented by meticulously designed terraces totaling approximately 100 m2. Set upon a generous plot spanning 519 m2, this house is an embodiment of elegance and serenity. The basement boasts a spacious garage and a cozy separate apartment, offering convenience and versatility. The ground floor unveils a tastefully furnished one-bedroom apartment of approximately 110 m2. With a thoughtfully designed bathroom, a comfortable bedroom, and a kitchen seamlessly integrated with a spacious living and dining area, this apartment effortlessly flows onto a stunning large terrace. The floor-to-ceiling glass walls facing the sea allow abundant natural light to cascade in, creating an irresistible and captivating ambiance.
As you ascend to the first floor and high attic, a grand experience awaits you in the form of the largest apartment, spread across two floors interconnected by elegant internal stairs. Revel in the expansive living space that encompasses five inviting bedrooms, two bathrooms, two well-appointed kitchens with living rooms, and two alluring terraces. Each floor bestows an awe-inspiring panoramic view of the endless sea, ensuring that you are always in harmony with the mesmerizing coastal surroundings. The property is fully enclosed by a secure fence, with easy car access and ample parking space for 2-3 vehicles. A charming garden adorned with vibrant Mediterranean plants and majestic Dalmatian pine trees graces the front of the residence, providing delightful shade and an enduring sense of allure. And when you step through the garden, you have direct access to the pristine beach, where a picturesque concrete beach plateau and a convenient boat mooring await, beckoning you to explore the crystal-clear waters.
Offered at an exceptional price of 1,400,000 EUR, this Croatia Sibenik area seafront residence with boat mooring for sale, complete with a coveted boat mooring in the desirable Sibenik region of Croatia, presents an unrivaled investment opportunity. With its exquisite panoramic sea views and remarkable income potential from rentals, this property is a haven for savvy investors seeking unparalleled returns. Don't let this rare opportunity slip through your grasp. Seize the chance to own this stunning seaside sanctuary at a fair price. Contact us today to secure your private viewing and embark on an extraordinary journey of coastal living that will surpass your wildest dreams.
Read more about this property here Croatia Sibenik region waterfront residence for sale with boat mooring.
Read more about Sibenik area here.