About this Property:
Waterfront house for sale North Dalmatia Croatia
SOLD!
This waterfront house for sale North Dalmatia Croatia enjoys panoramic sea views and Pag island. House has 300 square meters and consist of 3 apartments, garage, parking, and garden. Land plot is 850 square meters. There is direct access to the sea by stairs leading from garden gates. Down on the seafront there is stone plateau for enjoying in sun and sea. In summer months you could moor a boat because sea is calm, but in winter months boat needs to be in more protected place, in nearby marina.
There is no road between house and the sea. House is connected to the electricity and city water supply, and has septic tank for waste water. House is located in quiet small village of Karlobag area. House has great rental potential. In the garden is possible to construct a pool with panoramic sea view. House is offered at price which is lower than real value of this property. This is rare opportunity to buy seafront house at very low price. If you would like to know rental potential of this house, and profit that house can produce per season, contact us for detailed calculation. We are also experienced tourist agency specialized in villas rentals and we can make estimation of income from rental business, number of occupied days per season and price per each season, improvements which are needed to turn this house into villa with pool. Price for Waterfront house for sale North Dalmatia Croatia is 350 000 EUR.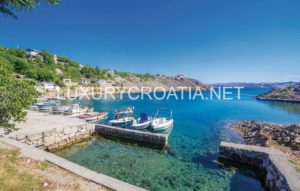 Find your route to North Dalmatia here.
Find out more about North Dalmatia here.