About this Property:
Seafront boutique hotel in Dubrovnik
(SA-VP-DA)
Seafront boutique hotel in Dubrovnik represents luxury accommodation (*****) for those who wants to experience the old town of Dubrovnik in a true, realistic and historic way. The hotel is located close to the center,  20 minutes of slow walk will take you to the old town. In front of the hotel is a spacious, large swimming pool that overlooks the Adriatic sea, and sundeck area. It is a truly exceptional feeling to sense the beauty of sea view while swimming in the pool or just enjoying the sun.
The interior of the villa is designed in a traditional way, pointing out the sophisticated historic architecture and furniture. On the inside you will also find the swimming pool along with a Jacuzzi, sauna and fully-equipped fitness studio. Some of the rooms in the boutique hotel have a nice Mediterranean garden views while the other rooms have sea views. The rooms are fully equipped with everything you might need.
Dubrovnik, Pearl of the Adriatic
The walled city of Dubrovnik was described by George Bernard Shaw as "paradise on earth". The old city is a protected UNESCO World Heritage Site and is surrounded by spectacular fortified walls up to 25m high and 6m thick. Founded in the 7th century on a rocky island called Laus, it later became known as Ragusa. The Venetians gained control of the city at the beginning of the 13th century but, by the end of the 14th century, Dubrovnik had essentially become an independent city.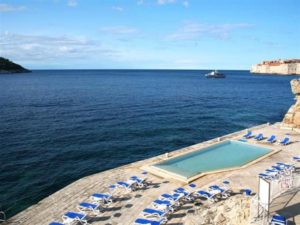 THE BREAKFAST IS INCLUDED IN PRICE.
PRICES ON REQUEST.
If you want to know more about Dubrovnik, click here: Dubrovnik
Find out here information about buying property in Croatia – Buying procedure, Costs and Fees