About this Property:
Waterfront home for sale Sibenik Riviera Croatia
This waterfront home for sale Sibenik Riviera Croatia is located directly on the sea, with boat mooring in front of the house. Beside boat mooring there is small pebble beach. House has 150 square meters and land size has 270 square meters.
It consist of three residential units. On the ground floor there is a studio apartment with front courtyard. In the yard there is a sun deck, shower, barbecue and gazebo next to the fence by the sea. Beautiful dining area overlooking the sea from which it is only a few meters away. All apartments have separate external entrances. The apartments on the first and second floor have two bedrooms. A special feature of the apartment on the first floor is a large terrace of 35 sq.m., while the apartment on the second floor has the most beautiful sea view.
There is no road between the house and the sea. Car access is from the back. Behind the house there is a parking lot. House is connected to the electricity and city water system. This beautiful home is in quiet village of Sibenik area. Split airport is only 20 minutes away by car. Price for Waterfront home for sale Sibenik Riviera Croatiais 530 000 EUR.
SOLD!
Sibenik is a historic city located in the central part of the Croatian coast on the Adriatic sea where the beautiful river Krka flows into the Adriatic. It is a centre of the county of Sibenik and Knin and it extends along the 100 km long coastline from Zadar to Split while laying under the Dinara mountain in the hinterland area. In the centre of Sibenik, you can visit the theatre of Sibenik which was built in 1870 and is today, the oldest theatre buildings that is still used, and has been the host of the famous International Children's Festival for 50 years in a row. The fortress of St. Michael dedicated to the patron of Sibenik and one of four that are situated around the city centre is definitely worth a visit. Another fortress that is worth of your visit is the beautiful renaissance fortress of St. Nicholas, and with the fortress of St. John, these three represent the symbol of Sibenik's fight and resistence.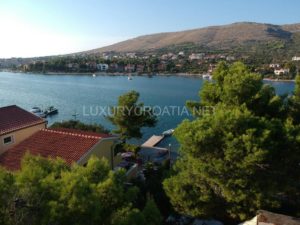 Find your route to Sibenik here.
Find out more about Sibenik here.