About this Property:
Holiday house for sale Orebic Peljesac
Holiday house for sale Orebic Peljesac is great house ideal for vacation. It was built on the plot of 490 m2. Consists of 4 apartments (each with separated entrance and parking place). 2 apartments have 2 bedrooms while the other two are with one bedroom + living room. 70 meters from the sea, completely furnished and airconditioned.
(H-OP-VB-1)
Hrvatski Jezik
Izvrsna kuća za odmor 70m od mora. Izgrađena na parceli površine 490m2, ova kuća se sastoji od ukupno 4 apartmana (2 dvosobna i 2 jednosobna). Veliki parking uz kuću. Uredno vlasništvo i dokumentacija uključujući uporabnu dozvolu. Parcijalan pogled na more zbog zelenila ispred kuće.
Orebic:
Orebić is a port town and municipality in the Dubrovnik-Neretva county in Croatia. It is located on the Pelješac peninsula on the Dalmatian coast. Orebić is directly across a strait from the town of Korčula, located on the island of the same name. Ferries service the two towns frequently. Orebić is 112 km (70 mi) from Dubrovnik.
It was named after the family who restored the castle inside the fortified settlement in 1586.[1] During the 19th century, Orebić had 17 of the most important nautical captains in Austria-Hungary Empire.
Tourism is one of the town's main sources of income, especially during the summer months. In the 1960s a large number of non-locals built homes for their summer holidays. In subsequent years, tourists from other countries started to arrive. Today, people from Hungary, Germany, and Italy most frequently visit the town. However, the town is also gaining in popularity with many other nationalities including Polish, Czech, Slovenian and UK visitors.
The town now boasts a number of high-quality hotels including the Hotel Indijan and the Grand Hotel Orebić. There are also numerous camp sites located around the town that also cater to camper vans. The town's main beach at Trstenica is also a big attraction. Many locals also rent out rooms or apartments during the high season.
The Franciscan monastery of Our Lady of Angels is a popular attraction. Visitors are also drawn to the Mount of Saint Elijah (Croatian brdo Sv. Ilija) located behind the town which offers a good view of the island of Korčula and the Adriatic Sea. There are many hiking paths from Orebić and nearby villages that lead to the summit and are well sign-posted.
At the eastern approach to the town, just before Trstenica beach, Korta Katarina is currently being renovated. This building is expected to house a boutique hotel, wine tasting room, and be home to the winery of the same name which produced local varieties such as Pošip and Plavac Mali.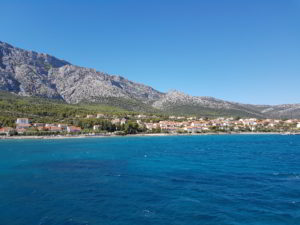 Energetski certifikat je u izradi.
Obtaining Energy Consumption Certificate is in process.
Read more about Orebic
here
.