About this Property:
House for sale with two apartments in Orebic Peljesac
(H-AH-OR3)
House for sale with two apartments in Orebic Peljesac is located close to the sandy beach of Trstenica in Orebic, walk distance to the beach and to the supermarket. House is semidetached but completely divided by wall and fence from the neighbor. There is large parking for 3 cars inside the fenced area next to the house. On the backside, there is a barbecue/grill/fireplace of good quality. There is a small storage house next to the barbecue, and two additional storage boxes next to the fence wall.
House is organized on two floors and has interior high-quality wooden stairs that connect ground floor apartment and upper floor apartment which can be used as separate apartment because of the kitchen and dining room on that floor on the north side. On this first floor, there are also 3 large double bedrooms with high-quality wooden furniture and a bathroom. It is possible to extend the house to another floor. On the ground floor of this house, there is entrance hall, bathroom, living room on the south side, one bedroom on the south side and a large dining room with a kitchen on the north side.
In the hall, there is a well-organized storage space under the wooden stairs.
Furniture is not in the price but is for sale. It is wooden furniture, long-lasting and well maintained.
Each floor has 65 m2 of living space. The land plot is 210 m2. House is tidy, well organized, well maintained, renovated a few years ago (facade, roof, electricity, water system, shutters, and windows) so there is no need for any further investment. House is ready to move in.
Orebic is located towards the tip of the Peljesac Peninsula, opposite the island of Korcula. Once upon a time very well known for its maritime industry – which reached a peak in the mid-19th century during the Austro-Hungarian – these days it is probably the best-known resort on the Peljesac Peninsula. It is home to some lovely beaches, including that rarity in Croatia – sandy beaches! (Check out Trstenica Beach in particular.) The area is also a suitable location for a range of activities, including surfing and diving.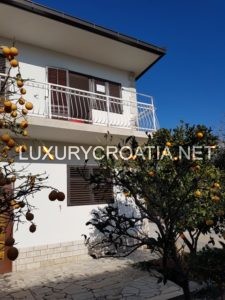 THIS HOUSE WAS SOLD!
Orebić is in the heart of the Croatian wine country. The entire peninsula is a prime wine-growing territory, and there are many beautiful wineries all over the island.
Orebić has a lot of lovely little beaches, some sandy and some shingly, bordered by groves of tamarisk and pine.
If you want to know more about Orebic, click here: Orebic
Find out here information about buying property in Croatia – Buying procedure, Costs, and Fees
For ferry schedule, click here