About this Property:
Sea view house with garden for sale Orebic Peljesac Croatia
This Sea view house with garden for sale Orebic Peljesac Croatia is located in quiet part of Orebic town. House has large garden on the back side, and is surrounded with greenery. On the east there is green zone, also on the north side there is no construction. There is beautiful sea view from the terraces of this house.
House has 130 sq.m. and sits on a the land plot that has 680 sq.m. It also features large parking for 3-4 cars and a basement. Ground floor has entrance veranda closed in glass. There is a kitchen, storage, bathroom and terrace. Internal stairs lead up to the first floor where are two bedrooms, another bathroom and terraces with beautiful sea view and view of Korcula island.
House is at walk distance to all shops, grocery, beach, ferry port, restaurants. In Orebic it is possible to live all year round as this lovely sunny town has all you need for all year living. It enjoys sun all day as it is oriented to the south. Heating in winter time is easy with electric heaters, but since mild winters in this area, no need for much heating.
There is possibility to extend the house for another floor or extend the footprint. This is house with a lots of potentials in beautiful location. Price for Sea view house with garden for sale Orebic Peljesac Croatia is 230 000 EUR.
Orebic is located towards the tip of the Peljesac Peninsula, opposite the island of Korcula. This lovely, little town is another hidden gem in South Dalmatia, on the southern coast of the Pelješac Peninsula. it's also a relatively undiscovered and therefore a relaxing and quiet place to stay.
Once upon a time very well known for its maritime industry – which reached a peak in the mid-19th century during the Austro-Hungarian – these days it is probably the best known resort on the Peljesac Peninsula. It is home to some lovely beaches, including that rarity in Croatia – sandy beaches! (Check out Trstenica Beach in particular.) The area is also a suitable location for a range of activities, including surfing and diving. Orebić town of sailors is in the heart of Croatian wine country. The entire peninsula is prime wine growing territory, and there are many beautiful wineries all over the island. Orebić has a lot of of lovely little beaches, some sandy and some shingly, bordered by groves of tamarisk and pine.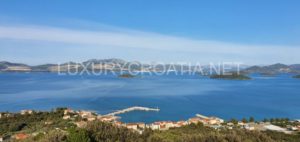 Find your route to Orebic here.
Find more houses for sale here.
Read more about this property here Croatia Orebic Peljesac sea view house with garden.