About this Property:
Beachfront house for sale Orebic Peljesac
This beautiful Beachfront house for sale Orebic Peljesac is a rare gem. It is located only a few meters from the seafront, with only a road separating it from the beach.
The house has two stories and features three bedrooms, two bathrooms, a dining room, and a kitchen. The balcony and large terrace in front of the house offer stunning views of the sea. The terrace is paved with stone plates and has a surface area of 100 sq.m. Behind the house are a parking space and another 350 sq.m. land plot. The house is connected to a local utility grid. Price for Beachfront house for sale Orebic Peljesac is 520 000 EUR.
This lovely, little town is another hidden gem in South Dalmatia, on the southern coast of the Pelješac Peninsula. it's also a relatively undiscovered and therefore a relaxing and quiet place to stay.
Orebic is located towards the tip of the Peljesac Peninsula, opposite the island of Korcula. Once upon a time very well known for its maritime industry – which reached a peak in the mid-19th century during the Austro-Hungarian – these days it is probably the best known resort on the Peljesac Peninsula. It is home to some lovely beaches, including that rarity in Croatia – sandy beaches! (Check out Trstenica Beach in particular.) The area is also a suitable location for a range of activities, including surfing and diving.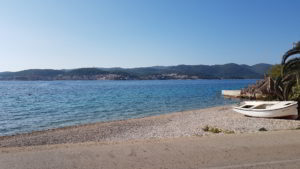 Read more about Orebic here.
Read more about this property here Croatia Peljesac Orebic seafront house for sale.