About this Property:
Land for sale near Primosten
This land for sale near Primosten has 456 sq.m. and comes with finished project. Beach is 200 m away. This is land with obtained building permit for house of 352 sq.m. 
Land for sale near Primosten has in total 456 sq.m. All the infrastructure (water, electricity, telephone) is near the land for sale. Finished project has 4 residentital units and 4 parking spots. Square footage of the house will be 352.64 sq.m. Land for sale has and house will have sea view. City centre and beach are just 200 m from the land for sale. There is paved road access to the land for sale. The price is 115 000 EUR.
Primosten is a small town located in North Dalmatia, situated on the Adriatic coast, close to Šibenik town and around an hour away from Split. This makes it very easy to get to Primošten, either with a bus that drives often from both towns or with your own car. It is perfect for a relaxed holiday and as a resort it's location allows you to base yourself and spend your days exploring either Primošten itself or other destinations that are located close to the same area, such as Šibenik, Split, Vodice, Trogir, Krka National Park and others. History influenced the way Primošten changed in the 16th century, right when the Turks invaded. In that time, Primosten was an islet, and when the Turks started to invade, the island was protected with walls and towers, and a bridge was constructed between Primosten and the mainland. After the Turks left, the bridge was removed, but the islet remained connected to the mainland using a mound. This is also the way that Primosten earned his name, coming from the Croatia word primostiti, or to bridge.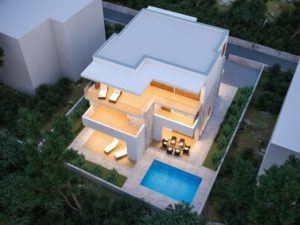 Find your route to this land for sale near Primosten here.
Read more about Primosten here.
Read more about this property here Croatia Primosten area land for sale.