About this Property:
Waterfront land for sale with boat mooring Sibenik area Croatia
This waterfront land for sale with boat mooring Sibenik area Croatia is located in quiet area on the suburb of picturesque village. Land has 640 square meters.
There is wall all around land border. Electricity and city water connection is right next to the land, on the street. Car access to the land is from the back and aside, so front line towards the sea has no road in between. On the sea side there is small marina with berths in small bay. Land looks to the other side of the bay, which is green hill with no construction as this hillside is in green zone.All amenities are at the walk distance from this land, such as restaurants and shops. Split international airport is half hour drive, and so is Zadar international airport. Price for Waterfront land for sale with boat mooring Sibenik area Croatia is 419 000 EUR.
SOLD!
Sibenik is a historic city located in the central part of the Croatian coast on the Adriatic sea where the beautiful river Krka flows into the Adriatic. It is a centre of the county of Sibenik and Knin and it extends along the 100 km long coastline from Zadar to Split while laying under the Dinara mountain in the hinterland area. The city is different from other cities on the coast because it was founded by Croats and not by Greeks, Illyrians or Romans, meaning it is the oldest native Croatian city on the Adriatic. For a while, Sibenik was a seat for the Croatian king Kresimir the fourth so it is sometimes called the Kresimir's city. Sibenik's rich history and appearance was influenced by Venice, Byzantium and Hungary who were tossing Sibenik around in the 11th and 12th centuries, and in the 14th century, the hinterland of Sibenik accomodated the Vlachs.
When Sibenik was given the official status of a town in the 13th century, the construction of today's symbol of Sibenik began, the cathedral of St. Jacob. This cathedral in under protection of UNESCO since 2000, due to how unique and complex the construction of the same was. Besides this cathedral, there is a number of churches to explore in Sibenik, some of which have been transformed into galleries, museums or other spaces. The city centre is, just as other Dalmatian centres, characterized by the narrow Mediterranean streets and old houses.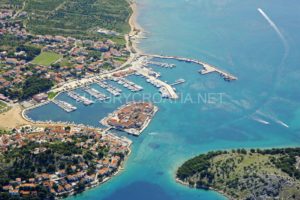 Find your route to Sibenik area here.
Find out more about Sibenik here.