About this Property:
Croatia Sibenik sea view land for sale
Croatia Sibenik sea view land for sale has 750 sq.m. which is located in second row next to the sea.
Sea view land for sale in Sibenik has an old house on the plot.  It is 56 sq.m. big and it is legalized. The sea view land itself is suitable for building a vacation villa, residental building, a family house or a small hotel. It has a beautiful view of marina and city of Sibenik. It is positioned on the hillside so the potential house will have an open view of Adriatic sea and view of Sibenik old city.
Sibenik is rich with cultural and historical monuments, mediaeval and renaissance forts and buildings and it is surrounded by beautiful nature. For example, there are two National Parks located nearby- Kornati and Krka. There is Delmare shopping center just a few minutes drive away from the land. Hotel, marina and Solaris resort are also located in the close area. The city is different from other cities on the coast because it was founded by Croats and not by Greeks, Illyrians or Romans, meaning it is the oldest native Croatian city on the Adriatic. The price for Croatia Sibenik sea view land for sale is 300 000 EUR.
LuxuryCroatia.net team is real estate broker with 10 years of experience in real estate sales in Croatia. Our team will guide you through the buying procedure, give you all relevant advice and successfully complete your process of purchase. We provide you with complete information and instructions about way to buy property in Croatia. There are some small differences in purchase procedure in Croatia compared to other EU countries, and we are here to inform you and guide you through all the process. Testimonials of our happy clients speak about our work. Most of information in case you plan to buy property in Croatia, you will find on this website.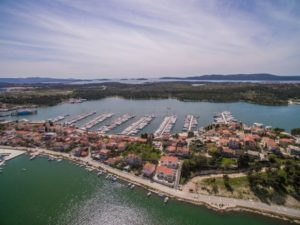 If you want to know more about North Dalmatia, click here: North Dalmatia
If you want to plan your route, click here: ViaMichelin
Read more about this property here Croatia Sibenik sea view land for sale.