About this Property:
Building plot in bay for sale Razanj
This building plot in bay for sale Razanj has 675 sq.m. and it is located just 100 m from the Adriatic sea.
Building plot in bay for sale Razanj is located in small town situated in a bay 11 km southwest from Rogoznica. Buidling plot for sale has 675 sq.m. and it is located about 100 m from the beautiful Adriatic sea. All the infrastructure is next to the building plot: water, electric power and sewage. Both paved road and footpath lead to the building plot. The price for the building plot in bay for sale Razanj is 101 250 EUR.
Rogoznica is a quiet but popular tourist village on the coast of Croatia at the end of North Dalmatia, located around 30 km from Šibenik and 55 km from Split and hidden in a deep bay sheltered from the wind. Most of the island is covered with forests, while the centre shows old stone houses, witnessing the whiff of the Mediterranean. It was once a small island called Kopara where Rogoznica was rested, however the island was artificially connected to the mainland, creating a peninsula in the second half of the 19th century.
The depth of the bay creates a shelter from the wind and makes it one of the safest harbour on the Croatian coast. The length of the coast of Rogoznica measures up to 54 km, offering a large number of beaches for tourist to choose from, most of which are sandy or rocky, and some hidden well to give you a place just for yourself to enjoy the escape from the crowds and the hassle. There is even a natural phenomena in Rogoznica, the so called "Dragon's Eye" salt water lake of irregular shape with characteristic flora and fauna that was created almost 10 000 years ago, after the last ice age ended. It is possible to go for a swim in the lake, and some even believe that the lake can be beneficial to one's health.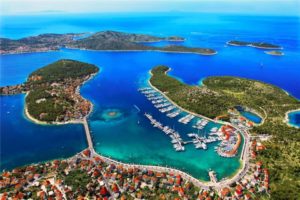 Find your route to Razanj here.
Read more about buying property on our website.