About this Property:
Wonderful vacation house with a pool, Kastela
(HO-KL-IL-01)
Wonderful vacation house with a pool, Kastela, wonderful vacation house, situated in an urban, yet still quiet and peaceful location with a partial view over the Adriatic sea. The house is beautifully decorated and has a swimming pool constructed (48 square meters), perfect for the vacation of a larger group or more families who want to spend their holidays together. The house accounts for 350 square meters, and it can accommodate up to 15 people.
There are three stories to the house, all connected with stairs inside of the house. The ground floor has a bedroom, bathroom, a kitchen, room for entertainment and mini fitness, on the floor, there is a kitchen with a living room, a bedroom, and a bathroom and the upper floor has three more bedrooms with en suite bathrooms.
There is a spacious terrace in the garden, where the swimming pool is located, ideal for refreshments from the summer heat. House has a jacuzzi for guests to relax. Maid and grill master services can be arranged for an additional price.
There are so many great things about this house, one of which is the location, very close to the historic cities under UNESCO protection, Trogir and Split, which offer many opportunities for an amazing vacation.
There are 2 kitchens, 5 bathrooms, and 2 separate toilets, and 6 bedrooms.
Four bedrooms have a king bed, one bedroom has a bunk bed for 4 persons, and one bedroom has a bunk bed for 2 persons.
Some amenities of the house include a sauna, room bicycle, table tennis, two cable TVs, free WiFi, exercise equipment, a safe, a swing, barbecue, trampoline, a slide.
Pets and smoking are not allowed inside the house.
Parking is available for 5 cars. Air conditioning throughout the whole property.
Distances:
Market: 100 m
Restaurant: 300 m
City of Trogir: 14 km
Airport: 15 km
Beach: 680 m (pebble rocks)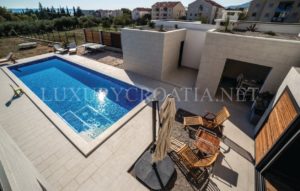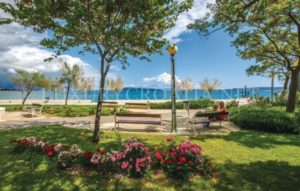 15% DISCOUNT FOR ALL RESERVATIONS IN JUNE, JULY, AUGUST, AND SEPTEMBER 2019.!
Prices for 2019. in EUR per week/day:
May 11th – June 8th = 5.180,00 €/week (740 €/day)
June 8th – July 6th = 7.000,00 €/week (1000 €/day)
July 6th – August 24th = 8.050,00 €/week(1150€/day)
August 24th – August 31st = 7.000,00€/week(1000€/day)
August 31st – September 14th = 5.180,00 €/week (740€/day)
September 14th. – October 12th =4.620,00 €/week (660€/day)
Minimum stay in July and August: 7 days; Changeover day: Any
Minimum stay in rest of the season: 3 days
Damage deposit: 500€
Price per day in Eur 2020.
23.5.- 13.6. 4515€ per week, 645€ per day
13.6.- 4.7. 6160€ per week, 880€ per day
4.7. – 29.8. 6860€ per week, 980€ per day
29.8.- 12.9. 6160€ per week, 880€ per day
12.9. – 3.10. 4515€ per week, 645€ per day
Minimum stay in July and August: 7 days; Changeover day: Any
Minimum stay in rest of the season: 3 days
Damage deposit: 500€
If you want to know more about Trogir, click here: Trogir
If you are interested in spending active vacations, check our offer here: Excursions, trips and adventure Sports