About this Property:
House for sale Kastel area
This house for sale Kastel area has three levels and the total size of parcel is 1254 sq.m. It is located just 12 km from Split.
House for sale Kastel area is south oriented which means there is enough daylight during whole year. House for sale has 3 levels and additional building in the garden. Additional building of this house for sale is used as garage, workshop, summer kitchen and there is also a box for the dog. Fireplace is also in the additional building. Ground floor of the house for sale has 100 sq.m. with 2 apartments with two separate entrances. Both apartments in the house are air conditioned. There is separate entrance of the first floor with another apartment of 95 sq.m. There is also balcony on the first floor with sea view. There is also attic (second floor) and it does not have private stairs for now. House for sale can be moved into, but it can be adapted to the wishes of the buyer since it is not finished completely in some parts of the building. Private garden is big enough to build a private swimming pool. Sea is just 1.5 km from the house for sale and supermarket is also near the house for sale. Airport in Split is just a short car ride from the house for sale.
SOLD!
Kastel area is located between Split and Trogir. There are all together 7 settlements named with Kastel. Area is popular in the summer season when the tourists come and visit Trogir and Split. Kastel area is just 20 minute drive from Split airport and Split city centre. There are many organizations and institutions which enrich cultural life of the town throughout the year. The museum of town of Kastela found its place in Vitturi castle, and an exhibition room in onetime bishop's summer residence in Kastel Sucurac.
LuxuryCroatia.net team is real estate broker with 10 years of experience in real estate sales in Croatia. Our team will guide you through the buying process of purchase. We provide you with complete information and instructions about way to buy property in Croatia. There are some small differences in purchase procedure in Croatia compared to other EU countries, and we are here to inform you and guide you through all the process.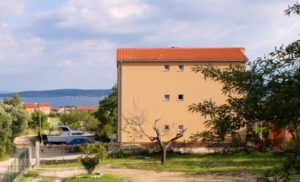 Find your route to Kastel area here.
Read more about buying property in Croatia on our blog.