About this Property:
Stone house for sale Kastel Stari
Stone house for sale in Kastel Stari has 216 square meters. House has 4 levels (3 floors + office space on the ground floor ). Stone house is second row from the sea, just 50 m away from it. House is located close to the Split airport and has car access. It is not possible to park in front of the stone house, but 50 m away from the stone house is public parking. House is built out of stone. Inside of the house, each level is constructed of wooden beams and internal wooden stairs lead from the first to the fourth floor which is attic with terrace. The price for this house is 139 000 EUR.
Kastel Stari is a village between Split and Trogir. There are all together 7 settlements named with Kastel. The name Kastel Stari means Old castle. Area is popular in the summer season when the tourists come and visit Trogir and Split. Village Kastel Stari is 20 minute drive from Split airport. There are many organizations and institutions which enrich cultural life of the town throughout the year. The Museum of the town of Kaštela found its place in the Vitturi castle, and an exhibition room in onetime bishop's summer residence in Kastel Sucurac.
SOLD!
LuxuryCroatia.net team is real estate broker with more than 10 years of experience in real estate sales in Croatia. Our team will guide you through the buying procedure, give you all relevant advice and successfully complete your process of purchase. We provide you with complete information and instructions about way to buy property in Croatia. There are some small differences in purchase procedure in Croatia compared to other EU countries, and we are here to inform you and guide you through all the process.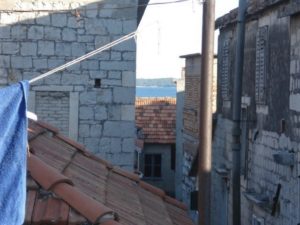 Find your route to Kastel Stari here.
Read more about this property here Croatia Trogir area stone sea view house for sale.