About this Property:
House for sale in Kastel area
This house for sale in Kastel area consists of 4 apartments and has 405 sq.m. House is located in Kastel area, just 12 km from Split.
House for sale in Kastel area has 405 sq.m. and the surface of the parcel is 350 sq.m. House consists of 4 apartments and basement. Three apartments are completely furnished and they are 3 bedroom apartments. Balconies offer sea view. One apartment is one bedroom apartment. There is also attic in this house for sale in Kastel area which can be turned into apartment, but it is not finished. House for sale has 2 garages and pantry in the basement. There is also outdoor grill area of size 13 sq.m. all decorated and furnished. House is registered as apartments and very well booked. House is for sale at the price of 380 000 EUR.
Kastel area is located between Split and Trogir. There are all together 7 settlements named with Kastel. Area is popular in the summer season when the tourists come and visit Trogir and Split. Kastel area is just 20 minute drive from Split airport and Split city centre. There are many organizations and institutions which enrich cultural life of the town throughout the year. The museum of town of Kastela found its place in Vitturi castle, and an exhibition room in onetime bishop's summer residence in Kastel Sucurac.
LuxuryCroatia.net team is real estate broker with 10 years of experience in real estat sales in Croatia. Our team will guide you through the buying process of purchase. We provide you with complete information and instructions about way to buy property in Croatia. There are some small differences in purchase procedure in Croatia compared to other EU countries, and we are here to inform you and guide you through all the process.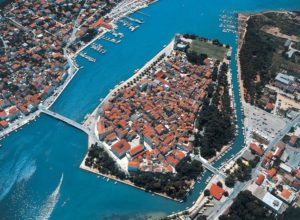 Find your route to Kastel area here.
Read more about buying property in Croatia on our blog.