About this Property:
Villa with pool for rent in village in Trogir area
(RE-V-BR-TR)
Villa with pool for rent in village in Trogir area: This is a completely refurbished and up to the detail equipped house. It is lovingly designed to come across even more demanding expectations during your holiday stay in Croatia. The house is located in the Middle Dalmatia region, near Trogir in a rural village called Bristivica. Bristivica, peaceful and a nature-rich village, dates back from XIII century. Untouched and natural village that will guarantee you an unforgettable stay and warm taste of freshness during the morning and slight romantic breeze during the evening.
The house is located in the perfect location, regardless your travel brings you up from Trogir, Sibenik, Primosten or arriving via air or highway Zagreb – Split. Location is accessible within just 10 min driving or 13.5 km away from old city Trogir. Trogir is a historical city under UNESCO heritage and a famous tourist destination full of first class restaurants, bars, beaches, marina's… simply – all one may need for a memorable vacation.
From another end, it is located 24 km from Primosten, one of the most famous tourist destination in Middle Dalmatia with crystal clear sea on the Adriatic coast. And yet, the house is just 12 km away from exit Prgomet of the highway Zagreb – Split, and 19 km away from Split airport.
A beautiful, spacious, 180 m² house has capacity of 8 pax and is built on 1600 m² property, surrounded with Mediterranean plants, olive and fruit trees, creating silent environment offering you a complete discretion away from the noise that urban places bring with them, but still have the rest of the world on your palm via high-speed internet and entertainment equipment (TV/CD/DVD/SatTV…). For your comfort, the house contains large private parking place, garden barbecue, multifunctional child playground and more, or if one wants to replace crowded places with peace and leisure, than private pool and sauna that this villa has is the right choice.
That is not all, as in order to make your relaxation full, there is outdoor grill and traditional bowling playground or it may be that you wish to choose to ride the bike, jogging long walks amongst the countless pathways surrounded with untouched and inviting nature.
Inside the house, you will encounter lovingly refurnished ambient, arranged in modern but retro style, handmade of 100% ecological, natural and environment-friendly materials. House consists of spacious living room, fully equipped kitchen with fireplace, business corner, large hall, 3 bathrooms (2 out of 3 are with toilet), pantry & laundry and 3 bedrooms with one equipped with own bathroom and toilette and cot, another one with double bed, and third one with two separate beds. Additionally, there is a very comfortable couch with an extra bed for 2 adults to sleep (located in living room). There is also a lot of unique and valuable antiquities, which will tell you a lot of stories about our ancestor's lifestyle in the past. These unique and valuable antiquities together with the lovingly made stylish furniture and equipment are there for your well being and shall for sure make your stay fully comfortable and enjoyable.
Additional house facilities and private yard:
Outdoor pool + sunbathing area (includes parasol and cocktail table with chair),
Sauna with bathroom,
Traditional bowling playground,
Multifunctional kids playground on the grass (includes slide, swings, see-saws, creepers, sand playground),
Outdoor grill + 10 m2 associated terrace (includes garden seating arrangement for 8-10 pax + parasol),
Shaded terrace in front of the house – cca 65 m2 (includes seating furniture for 10 -12 pax),
Garden benches,
Parking place: 6 cars
Interior arrangement:
Spacious living room + dining room – Kitchen + fireplace – Bedrooms: 3 – Business corner – Laundry – Bathrooms: 3 – Toilets: 2 – Hall – Living and dining room equipment (in general) – TV – Cable TV – Hi-Fi/CD/DVD – High Speed Internet / Wi-Fi – Safe – Telephone (for local calls only) – Air-condition – Couch for 2 (adults) –
Baby feeding chair –  Kitchen – Electrical cooker (combination gas/el.) – Oven – Fridge (incl.deep freezer) – Dishwashing machine – Ventilation exhausting hood –
Coffee machine – Microwave oven – Kettle – Handheld mixer – Toaster
Bedrooms:
Bedroom No.1: Double bed, cot, bathroom with toilet,
Bedroom No.2: Double bed,
Bedroom No.3: 2 x single bed (each 200cm * 90cm) + TV,
Hairdryer – Laundry – Washing machine – Tumble dryer – Electric Iron – Ironing board – Vacuum cleaner –  Heating/cooling – Thermal insulation – Fireplace –
Central heating system – Air condition (living room)
All above-mentioned facilities included in price. Also, price includes all local taxes and fees, electricity, additional bed linen for 1 exchange (per week), additional towels for 1 exchange (per week), the hygienic package (soap, shampoo, shower gel, shower cap, toilet necessities for the first day of stay) and complimentary welcome package.
Price list per day in 2021. in EUR:
17.04. – 04.06. 155 EUR / minimum stay is 3
05.06. – 18.06. 217 EUR / minimum stay is 3
19.06. – 09.07. 287 EUR / minimum stay is 5
10.07. – 13.08. 330 EUR / minimum stay is 7; Saturday changeover
14.08. – 20.08. 287 EUR / minimum stay is 5
21.08. – 03.09. 217 EUR / minimum stay is 3
04.09. – 15.10. 155  EUR / minimum stay is 3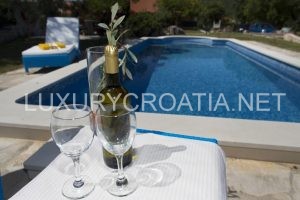 At extra cost, we can arrange group or individual yoga classes in this villa with Yoga teacher from Ananda Yoga Studio Split.
If you want to know more about Trogir, click here: Trogir 
If you are interested in spending active vacations, check our offer here: Excursions, trips and adventure Sports