About this Property:
Luxury home for sale with sea view Trogir area Croatia
This luxury home for sale with sea view Trogir area is a modern 2-story villa. This is large luxury residence with the living area of 332 sq.m., consisting of a large living room, fully installed kitchen, 4 bedrooms, 6 well-equipped bathrooms and a garage, and with 2 spacious seafront terraces. The terrace on the ground floor is fitted with an illuminated heated pool.
This exclusive villa also delights with its modern architecture, offering a total living area of 332 m2 for at least 8 people. The 3 spacious terraces allow you to admire the incomparable view of the crystal-clear sea and the opposite coast.
On the ground floor, you will find 3 bedrooms and bathrooms with direct access to the sun-drenched terrace and the heated pool. You can get to the upper floor through the stairs. There, apart from another bedroom, you will come across the impressive living-dining space with a total area of 100 sq.m., which offers an undisrupted, picturesque panoramic view of the sea and coastline, thanks to the extensive, glazed fronts and two terraces. The dining room in a cubical form is located above the ground floor, which is an eye-catching accent of the building's architecture.
The villa has been finished with top-class materials only. The large size floor tiles made of the highest quality ceramic, along with the solid wood flooring, make the villa a perfect place to stay all-year-round. The interior doors equipped with hidden frames, along with the top-quality, sturdy aluminium glazing, perfectly complete the modern style of this unique villa. The marvellous greenery, choicely arranged to the needs of this gorgeous residence, combined with the modern lighting, emphasizes the exceptional character of the structure.
Price for is Luxury home for sale with sea view Trogir area 1 350 000 EUR.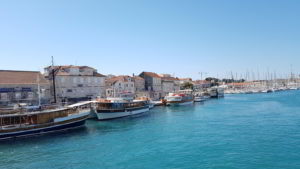 Find your route to Trogir here.
Read more about this property here Croatia Trogir area luxury sea view home for sale.
Read more about Trogir here.