About this Property:
Luxurious villa close to the sea for sale Trogir region Croatia
This luxurious villa close to the sea for sale Trogir region Croatia is a modern 3-story villa with a living area of 361 sq.m., consisting of a large living room, fully equipped modern kitchen, 4 bedrooms, 5 well-equipped bathrooms, and a two-car garage. Spacious terraces, overlooking the shimmering sea, are on the ground and the second floor. The terrace on the ground floor is fitted with an illuminated heated pool.
There is a room in the underground section with a rearrangement option (e.g. to use it as a gym, or entertainment room, or wine cellar). This villa close to the sea located on top of the slope offers a stunning view of the sea. This beautiful, extraordinary residence is richly appointed and boast a spacious, contemporary design with enchanting views of the sea and peaceful surroundings. Both the ground floor and the whole second floor are open to the sun-drenched terraces. You will come across the living and the dining room with a fully installed kitchen on the 76 sq.m. bottom floor, where the terrace smoothly conjoins a large heated pool. The underground section is marked by additional functionality offering arrangement possibilities (e.g. a gym). The optimally designed bedrooms on the top floor delight with a breathtaking skyline, thanks to the additional terraces and extensive windows' fronts. The need for the highest quality also translates to the interior. Only top-of-the-line materials, including large-format ceramic tiles, solid wood flooring and frameless interior doors, which additionally emphasize the tall rooms, have been used in consonance with the modern architecture of the villa close to the sea for sale. Split international airport is about 10 minutes drive. Price for luxurious villa close to the sea for sale Trogir region is 1 300 000 EUR.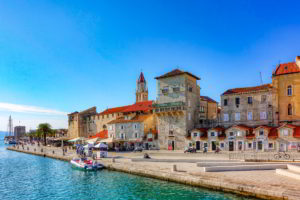 Read more about this property here Croatia Trogir region luxurious villa close to the sea. Read more about Trogir here.