About this Property:
Buy Luxury Beachfront Villa with Pool and Tennis Court in Trogir Area Croatia
Are you looking to buy luxury Beachfront Villa with Pool and Tennis Court in Trogir Area Croatia? Do you want to enjoy panoramic views of the sea and the sky from every room? Do you love swimming, sunbathing, and playing tennis? If you answered yes to any of these questions, then this villa in Trogir area is perfect for you!
SOLD!
This villa is a masterpiece of contemporary design and quality construction. It was built 2 years ago with high standards and attention to detail. It has 5 bedrooms, all oriented to the sea and south, with their own bathrooms and balconies. There are 5 bathrooms, a large open-plan living, dining and kitchen area, a summer kitchen and outdoor dining area with fireplace, a basement, and a garage for 2 cars, and 2 more parking places in front of the garage.
The best feature of this villa is the amazing location on the seafront, with direct access to the beach from the property. You can admire the blue water and the island of Ciovo from your own large pool, which stretches in front of the villa. You can also walk to the beach in seconds and enjoy the crystal clear water and the sand. The villa enjoys sun all day as it is oriented to the south, so you can soak up the warmth and the light.
This villa is not only a great place to live, but also a great investment opportunity. It is fully furnished in modern contemporary style and all is included in the price. It has a land plot of about 780 sq.m., with a well-maintained garden. It also has a tennis court on top of the garage, where you can play with your friends or family. The price for this villa is 2 590 000 EUR, which is a fair value for such a luxury property.
But that's not all. This villa is also located in one of the most beautiful and historic areas of Croatia – Trogir. Trogir is a UNESCO World Heritage Site, as it is one of the best preserved medieval towns in Europe. It has a rich cultural heritage, with stunning Romanesque and Renaissance buildings, churches, palaces, and monuments. You can explore its narrow streets, charming squares, and lively markets. You can also enjoy its gastronomy, nightlife, and festivals.
Trogir is also well-connected with other attractions in Dalmatia. You can easily reach Split, Sibenik, Zadar, or Dubrovnik by car or ferry. You can also visit the nearby islands of Ciovo, Brac, Hvar, or Korcula. And if you want to travel further, you can use the Split international airport, which is only 15 minutes drive from Trogir.
Don't miss this opportunity! Contact us today to schedule a viewing or to make an offer. We would love to show you this villa and help you make it yours.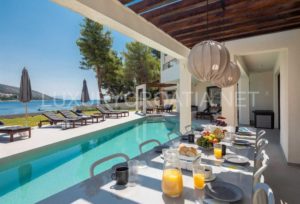 Read more about this property here Croatia Trogir area buy luxury beachfront villa with pool and tennis court.
Read more about Trogir area here.