About this Property:
Stone cottage for sale Croatia Dubrovnik Orebic area
Stone cottage for sale Croatia Dubrovnik Orebic area was partly renovated and needs some works and new furniture. House is in a row with other stone cottages facing south with views of the nature and hills. There is car access right in front of house and parking on the public area. House has 20 sq.m. of terrace in front. Internal stairs lead to upper floors where are bedrooms. Totally house has 170 sq.m. on 3 floors + attic. House is connected to the electricity and water comes from water tank which is next to the house and collecting rain water.
The ground floor has a kitchen, bathroom and a terrace of 20 sq.m. directly in front of the house. The first floor consists of two rooms and a dressing room which is the only one completely furnished. The second floor consists of two rooms and has an exit to the north side where there is terrace that also belongs to this property. Attic could be renovated into bedroom. Price for Stone cottage for sale Croatia Dubrovnik  area is 59 000 EUR.
Nearest beach and sea is 900 meters, which is about 15 minutes walk. Village of Sreser is known for beautiful long beach. Peljesac bridge is to be finished by the end of 2021, and this home is few kilometers from the bridge, which makes it easy accessible from highway. House is located in village of Sreser which is about 20 km from Orebic and 30 km away from Ston.
Orebic is located towards the tip of the Peljesac Peninsula, opposite the island of Korcula. Once upon a time very well known for its maritime industry – which reached a peak in the mid-19th century during the Austro-Hungarian – these days it is probably the best known resort on the Peljesac Peninsula. It is home to some lovely beaches, including that rarity in Croatia – sandy beaches! (Check out Trstenica Beach in particular.) The area is also a suitable location for a range of activities, including surfing and diving.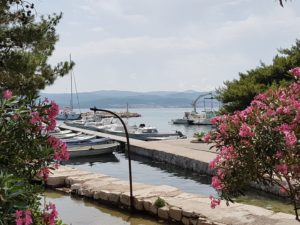 Find your route to Peljesac peninsula here.
Find more about Orebic here.
Read more about this property here Croatia Dubrovnik Orebic area stone cottage for sale.