About this Property:
Seafront villa with a restaurant for sale, Hvar
(SV-WR-SH)
Seafront villa with a restaurant for sale, Hvar is located just a few meters from the crystal clear sea. The villa has a beautiful panoramic sea view and it is organised on three story's along with a basement. Outside the villa you will find a large spacious terraces along with balconies. In front of the villa there is a large space where it is possible to build a pool. The stairs for a pebble beach are situated right next to the villa. The whole living area of (more then 400m2) has a garden (779m2) with a total land plot of (972m2).
The basement consists of fitness space and a restaurant kitchen with a WC but it is possible to construct a sauna or a gym. On the first floor you will find a restaurant, terrace and a bathroom along with four rooms with balconies which can be converted in to a large spacious living room.  The second floor consists of six rooms who can be organised in two apartments. The third floor has two bedrooms, a kitchen with a dining area, a living room, a terrace and balconies, a bathroom and a WC.
The island of Hvar is located in the Adriatic sea in the central part of Croatia's Dalmatia. It is the fourth island by its size, also called the "sunny island" due to the many hours of sunshine in the year, almost 280. The local hoteliers take pride in this, so if it happens that it snows on Hvar, your stay there is for free, however, this is a bet you are sure to loose. Luckily, there is some rain that enables the production of beautiful greens and nature, especially lavander, sage, rosemary, thyme and some vineyards. Lavander actually happens to be one of the symbols and main exports of the island, so make sure to explore this beautiful plant on Hvar. Some of the main resorts on Hvar island are the Hvar town, Jelsa, Stari Grad, Vrboska and Sucuraj.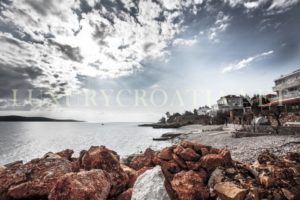 PRICE IS REDUCED FROM 1,700,000€ TO 1,500,000€!!!
If you want to know something about Hvar island, click here: Hvar Island