About this Property:
Seafront villa for sale private bay Cavtat area
(V-MO-PB)
We are thrilled to present a captivating seafront villa in the highly sought-after Cavtat area, located in a beautiful small village just a half-hour drive from the enchanting city of Dubrovnik. Offering an unrivaled sense of magic, this stunning property boasts a private beach beneath it, granting access to the pristine and crystal-clear Adriatic waters. The unobstructed panoramic sea view from the Seafront villa for sale private bay Cavtat area is simply breathtaking, providing a picturesque backdrop to everyday life.
As a true first line to the sea, the villa boasts the utmost convenience and luxury with its own private peer, catering to yachts and providing direct access to the inviting beach. Immerse yourself in the tranquil beauty of the Adriatic coastline, where the clean sea and mesmerizing vistas create an idyllic setting for relaxation and rejuvenation.
Spanning across four floors, each level of the seafront villa features a separate apartment, comprising its own well-equipped kitchen, spacious living room, large bedroom, two bathrooms, and a generously sized terrace that offers unparalleled sea views. The ground floor accommodates a studio apartment with a comfortable kitchen, inviting living area, and a modern bathroom.
The villa's thoughtfully designed layout comprises a total of four kitchens, four living rooms, four bedrooms, and seven stylishly appointed bathrooms. Three expansive terraces further enhance the enjoyment of the picturesque surroundings, offering a perfect setting for alfresco dining, entertaining guests, or simply basking in the beauty of the sea and horizon.
Adding to the convenience, the property features a practical basement dedicated to washing laundry, ensuring a seamless and efficient living experience. Five dedicated parking spaces in front of the villa offer ample room for both residents and guests.
The living area of 340 m2 is complemented by a lush garden, spanning 170 m2, creating an enchanting outdoor oasis for relaxation and tranquility. The villa underwent a complete renovation in 2014, exuding modern elegance and ensuring an excellent standard of living.
This Seafront villa for sale private bay Cavtat area represents a unique opportunity to embrace a coastal lifestyle of unparalleled beauty and comfort. Don't miss the chance to own this exceptional property, offering an exquisite combination of prime location, stunning sea views, and exclusive access to a private beach. Contact us today to discover the true essence of coastal luxury.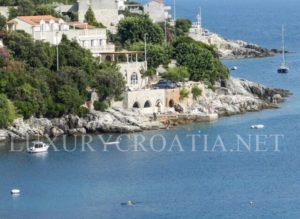 The walled city of Dubrovnik was described by George Bernard Shaw as "paradise on earth". The old city is a protected UNESCO World Heritage Site and is surrounded by spectacular fortified walls up to 25m high and 6m thick. Founded in the 7th century on a rocky island called Laus, it later became known as Ragusa. The Venetians gained control of the city at the beginning of the 13th century but, by the end of the 14th century, Dubrovnik had essentially become an independent city state and had established a lucrative trading position with the Ottoman Empire. In 1815 it was handed over to the Austrians by order of the Congress of Vienna and incorporated into the province of Dalmatia.
If you want to know more about Dubrovnik, click here: Dubrovnik
Find your route to Cavtat here.