About this Property:
SOLD: Seafront house for sale, close to Marina
(HO-PM-BN-01)
Seafront house for sale, close to Marina :  located in a very quiet and peaceful location, situated first row to the sea, only 10 meters away.
Lot size is 224 meters square and the living area sets on 147 meters square.
The house is detached and has two completely divided apartments, on the ground floor and the first floor.
The upper floor has three bedrooms and the ground floor has two. The house is partly furnished, with a satelite television.
There are two parking spots available, and one mooring for a boat.
Beach is only 50 meters away.
Distances: Marina 7 km away, Trogir 12 km, airport 16 km and beautiful city of Split only 35 km.
The bus station is only a kilometer away.
In the village you can find two markets, a bakery, restaurant and a few cafes.
There are connections to the city electricity and the city sewer.
Permits: Usage permission, certificat of ownership and building permit
Trogir is a remarkable small town with 2300 years of tradition, set on a small island on the Adriatic coast of Croatia in the center of Dalmatia. Hiding not so far away from Split, only 27 km, it is connected to the mainland and with another island, Ciovo with bridges. The  historic city center is under the protection of UNESCO since 1997., recognized as a true example of urban continuity, an old town with a number of intact Renaissance and Baroque buildings  and churches from the Venetian period. You can really get a sense of the Mediterranean while sight seeing and wandering the narrow streets of Trogir, sometimes nick-named the town-museum.  Trogir is very well connected with the rest of the Europe through a good air network to  Split's airport. After you've reached Split, you can take a car or a bus, and you are in this beautiful old town within a few hours.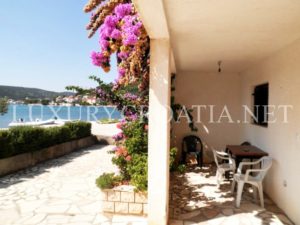 If you want to know more about Trogir, click here: Trogir