About this Property:
Beachfront house for sale Trogir Riviera Croatia
This beachfront house for sale Trogir Riviera Croatia is located in the first row to the sea in quiet village of Trogir Riviera. It is new building reconstructed in 2020., with finished outside facade and isolation and windows with double glass and shutters. Inside of the house is not finished, only brick walls inside divide space into 5 units. House is connected to the electricity and water supply, but installations inside house have not been installed yet. However, house has Permission of Occupancy/Use already issued.
There is enough space on the land plot for parking of 4 cars. From this house garden there is direct access to the beach. There is no road between house and the beach, and there are piers for boat mooring. Shops and restaurants are at few minutes walk from this home. This home is perfectly suited for those who are looking to finish interiors on their own designs and wishes. Spaces inside can be joined into larger units. House is overlooking the beautiful bay and sunset views. Price for Beachfront house for sale Trogir Riviera Croatia is 530 000 EUR.
SOLD!
Trogir, Dalmatia's hidden gem is a remarkable small town with 2300 years of tradition, set on a small island on the Adriatic coast of Croatia in the center of Dalmatia. Hiding not so far away from Split, only 27 km, it is connected to the mainland and with another island, Ciovo with bridges. There is a lot to see in such a small place, so keep your eyes wide open while o bserving what Trogir has to offer, such as a well preserved castle and a tower, palaces and cathedrals from the 13th century. The most notable building may be the cathedral of St. Lawrence, with the portal of Radovan at the entrance to the cathedral being one of the most important and famous monument of the town. There is also a bell tower rising from the cathedral, making it the tallest building in this area. Don't miss the castle of Kamerlengo either, a castle and fortress built by the Venetians in the mid 15th century that is sometimes used for performances in the summer season. The Benedictine monastery, a thousand year old church of St. Nicholas in is known for obtaining the oldest painting in Trogir, the "Madonna with Child" as well as the Kairos collection.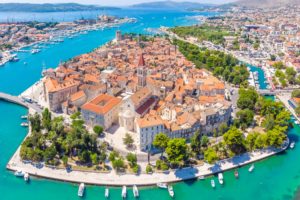 Find your route to Trogir here.
Find out more about Trogir here.