About this Property:
Modern villa with pool for sale near Zadar town Croatia
If you are you looking for a dream home in Croatia, you should check out this amazing new modern villa with pool for sale near Zadar town Croatia.
This villa is a semi-detached house with a swimming pool, located in a prime location, only 300 meters from the beach and 500 meters from the city center. You can walk to all the amenities you need, such as shops, restaurants, bars and entertainment venues.
The villa has a modern architecture and appearance, and it is fully equipped, furnished and air-conditioned. You can move in right away and start living your dream life.
The villa has 3 floors, with a total net living area of 180 sq.m. It has 4 bedrooms, 3 bathrooms, 2 living rooms, 2 kitchens and 2 dining rooms. It also has a terrace and a balcony where you can relax and enjoy the view.
The basement has a separate one-bedroom apartment that you can use for guests, rental income or as an office. The ground floor and the first floor have a two-story apartment that offers plenty of space and comfort. This apartment on the ground floor level has: toilet, bathroom, living room, kitchen and dining room, terrace, internal staircase leading to the first floor. The apartment on the upper level has: 3 bedrooms, toilet and bathroom.
Outside: In addition to the swimming pool, the property has a barbecue, a sun terrace and a cool porch. Green fence with all sorts of Mediterranean plants. There are 2 parking places and garden of 150 sq.m.
Year of construction: 2016
Zadar is 15 minutes drive away, so is the Zadar international airport, and exit to the highway.
We are ready to help you with all advices regarding rental business, as we are villa rental specialist, with 20 years in rental business.
How to buy property in Croatia, you can read in detailes on our website, what are fees and taxes. Or just contact us with your questions to give you precise and detailed answers.
This villa is a rare opportunity to own a piece of paradise in Croatia. Don't miss this chance to make it yours. Contact us today and schedule a viewing. You won't regret it!
Zadar is a city in Croatia that is home to a historic old town of Roman ruins, medieval churches, cosmopolitan cafes and quality museums set on a small peninsula. It's not too crowded and its two unique attractions – the sound-and-light spectacle of the Sea Organ and the Sun Salutation – need to be seen and heard to be believed. The city is also known for its white-sand beach where in-the-know travellers come to feast on seafood, watch dreamy sunsets, and sip cocktails at oceanside bars.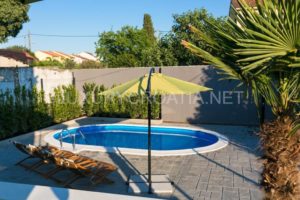 Read more about Zadar area here.
Read more about this property here Croatia near Zadar town modern villa with pool for sale.