About this Property:
WATERFRONT VILLA FOR SALE ISLAND ZADAR AREA
ref no. (HO-ZVI-BS1)
Waterfront villa for sale island Zadar area is located directly on the seafront with large land plot providing total privacy.
This is old villa in need of renovation.
There are 2 floors of the house, basement, ground floor, and first floor. In the basement, there is water tank cca 10 m3, wine cellar, laundry room, and a few storage rooms.
On the ground floor is spacious living room with kitchen and dining, opening to the large terrace which goes along the house and a stunning sea views. There are two bedrooms with a bathroom and two toilets. On the first floor, there are 5 bedrooms, each with its own bathroom. Central heating installations are in the house. Car access is available 30 m away from the house, but there is a possibility of building a parking place on that terrain. Between the house and the sea is a pleasant promenade where cars can't drive.
There is a small jetty for boat in front of the villa, and only few meters away there is also small marina with large pier for 15 meter boat.
Island has all the facilities for a comfortable stay like restaurants, markets, bakery, post office, and a marina.
Island is connected with ferry line every day from and to Zadar, and takes an hour and 20 min. The ferry port is 5 km away from the house. There is also a catamaran line to this island and takes one hour to reach it. Zadar international airport is 10 minutes drive from Zadar ferry port.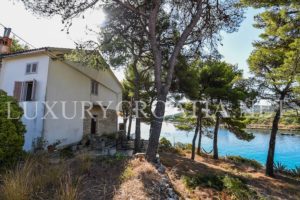 Zadar is a beautiful, 3000 years old centre of North Dalmatia, resting on the coast of the Adriatic sea that will give you an opportunity to testify its vivid history and enjoy the contemporary aspects of its culture today. Zadar evolved a lot through the years, transforming itself from a prehistoric settlement to an Illyrian village to a Roman municipality and surviving other transformations until it was finally liberated and reunited with the rest of Croatia in 1993. As the Croatian National Tourist Board says, the region of Zadar tells the story of the sources of Croatian cultural heritage better than any book.
If you want to know more about Zadar, click here: Zadar
Read more about this property here Croatia Zadar area island Waterfront villa for sale.