About this Property:
Modern villa with pool for rent, Zadar
(MV-WP-RZ)
Modern villa with pool for rent, Zadar is located in of the most beautiful and historically important city's in Croatia, only 200m from the sea. The villa is organised on two floors with only one accommodation unit inside a property. The place is not shared with other people and can accommodate up to 8 guests so it is perfect for families and kids. Outside this modern villa you can find a private swimming pool along with deck chairs, a fireplace with BBQ facilities and an outdoor shower.
On both floors you will find one bedroom with double beds,a bathroom, a living room with sofa beds, kitchen and a dining area along with terrace. There is also a basement with a playroom, a laundry room and WC. The villa is completely furnished and equipped with all the necessities like refrigerator, a microwave, a hairdryer, a Sat-TV, air Conditioning, a washing machine, facilities for children like table football etc…
Zadar is a beautiful, 3000 years old centre of North Dalmatia, resting on the coast of the Adriatic sea that will give you an opportunity to testify its vivid history and enjoy the contemporary aspects of its culture today. Zadar evolved a lot through the years, transforming itself from a prehistoric settlement to an Illyrian village to a Roman municipality and surviving other transformations until it was finally liberated and reunited with the rest of Croatia in 1993. As the Croatian National Tourist Board says, the region of Zadar tells the story of the sources of Croatian cultural heritage better than any book.
It is allowed for pets.
Access to WI-FI throughout the property.
Free parking suitable for 4 cars.
Check in: 16:00 to 22:00 hours
Check out: 07:00 to 10:00 hours
No deposit required.
Prices on request.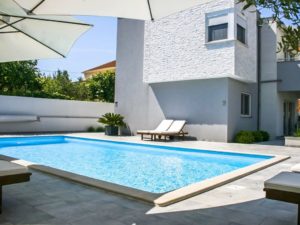 If you are interested in spending active vacations, check our offer here: Excursions, trips and adventure Sports