About this Property:
Luxury villas with pool for sale, Ugljan island
(V-UG-VR2)
Luxury villas with pool for sale, Ugljan island are located just on the opposite of the town Zadar, from which it is divided by just a few miles wide channel. Thanks to the rich Mediterranean vegetation Ugljan is also called the green island. It is well known for the beautiful beaches and crystal clear sea, fabulous and beautiful landscape, cultural legacy and great cycling and tourist paths.
A private resort of exclusive 15 stone-made villas located directly on the stunning private beach reserved for villa´s residents. Exquisite sea view from each villa and its relaxing gardens and terraces. To make your stay even more enjoyable, each villa is equipped with private swimming pool and air-condition. Parking for several cars is possible directly on the site.
There are 12 three bedroom villas, each 120 m2 of living space with sea view and pool.
PRICES FOR EACH VILLA IN EURO:
13th row 280.000 €
12th row 300.000 €
11th row 320.000 €
10th row 320.000 €
9th row 300.000 €
8th row 290.000 €
7th row 290.000 €
6th row  285.000 €
5th row 295.000 €
4th row 310.000 €
3rd row 330.000 €
2nd row  350.000 €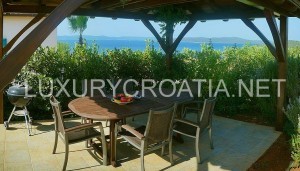 Zadar is a beautiful, 3000 years old centre of North Dalmatia, resting on the coast of the Adriatic sea that will give you an opportunity to testify its vivid history and enjoy the contemporary aspects of its culture today. Zadar evolved a lot through the years, transforming itself from a prehistoric settlement to an Illyrian village to a Roman municipality and surviving other transformations until it was finally liberated and reunited with the rest of Croatia in 1993. As the Croatian National Tourist Board says, the region of Zadar tells the story of the sources of Croatian cultural heritage better than any book.
If you want to know more about Zadar, click here: Zadar 
Find out here information about buying property in Croatia – Buying procedure, Costs and Fees