About this Property:
Buy a beautiful sea view house with 3 apartments Zadar area Croatia
You don't want to miss this opportunity to buy a beautiful sea view house with 3 apartments Zadar area Croatia, only 150 meters from the sea, with amazing panoramic sea view! And all that for only 266 000 EUR!
Are you looking for a dream home in Croatia? Do you want to enjoy the stunning sea view, the Mediterranean climate, to have beach at few steps away, spacious house for your family and extra apartments to rent to tourists and make good income? If so, this house is perfect for you!
This house is located on an elevated hillside, offering a panoramic view of the Adriatic Sea and green hills around this bay. You can relax on the spacious terraces, surrounded by greenery and tranquillity. You can also walk to the nearby beach. There you can swim, sunbathe, or listen to the soothing sounds of the sea. You can go cycling with your family and friends, or just take a walk along the sea, enjoying fresh air, nature and beautiful relaxing views of the sea.
The house has 3 apartments, each with its own kitchen, bathroom, and bedroom. The ground floor has 2 apartments that can be easily joined into one larger apartment. The first floor has 1 apartment with 2 bedrooms and access to a large terrace with an amazing sea view. The house also has a fireplace, a laundry room, and a storage space. The furniture is included in the price.
The house was renovated in 2021, with new electricity installations, thermal insulation, and stone decoration. The house has a living area of about 150 square meters and sits on a land plot of 210 square meters, where there are few parking places.
This house is a great investment opportunity, as you can rent out the apartments or use them for your own family or friends. We are also travel agency so we can calculate your possible income from renting of apartments, just contact us as soon as possible.
You can also enjoy the benefits of living in Zadar area. Zadar is about 20 km from this house. Zadar is one of Croatia's most charming and vibrant cities. Zadar has a historic old town with Roman ruins, medieval churches, museums, and cafés. It also has a lively nightlife, a gastronomic scene, and many cultural events. Zadar is also a key transport hub, with superb ferry connections to the surrounding islands. Zadar International airport connects you with whole world, and is only 20 minutes drive from this beautiful home.
Don't miss this chance to buy this Croatia Zadar area sea view house with 3 apartments sale for only 266 000 EUR! This is a bargain price for such a property in this location! Contact us today and make your dream come true!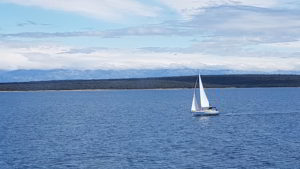 Read more about Zadar area here.
Read more about this property here Croatia Zadar area beautiful sea view house with 3 apartments.