About this Property:
Beach front house for sale Novigrad area Zadar Croatia
This beach front house for sale Novigrad area Zadar Croatia offers beautiful views of the sea, warm, sun-soaked terraces, and plenty of space to relax and enjoy the good life. This house offers great experience of the majestic seaside life of Croatia.
With no roads between the house and the sea, you will be able to enjoy the sound of the waves and the fresh air without any distractions. The house consists of seven bedrooms, two large and two small on the ground floor, two large and one small on the first floor, along with a kitchen, bathroom, two open terraces, and a covered terrace of 30 sq.m. There is plenty of space for parking, and the house is connected to the electricity and city water system, as well as high speed internet. This is a great opportunity to live the beach front lifestyle in Croatia for only 650 000 EUR. This price is a good deal for such a beach front property.
The best thing about this house is the amazing location on the beach front, with direct access to the beach from the property. House is surrounded with a lot of greenery and provide total privacy on the terraces, and spectacular sunsets over the sea.
This house is not only a great place to live, but also a great way to make money. After some refresh, this home can bring good rental income. How good, we can calculate it, just contact us as soon as possible! We are also travel agent with 20 years of experience in villas rentals.
This beach front residence has a spacious land plot of about 490 m2 with garage and garden, and residential area is about 200 m2.
Novigrad is a stunning Mediterranean city. Enjoy picturesque views of the Adriatic Sea and its idyllic coastline. Relax in the crystal-clear waters of the Novigrad sea, or explore the rocky cliffs on the nearby archipelago. With its sunny beaches, historical monuments, and delicious cuisine, Novigrad and Zadar are sure to provide an unforgettable experience.
This house is also in vicinity of one of the most beautiful and historic areas of Croatia – Zadar. Zadar is a UNESCO World Heritage Site, as it is one of the oldest cities in Europe. It has a lot of culture, with awesome Roman, Venetian, and Croatian buildings, churches, monuments, and museums. You can explore its old town, its famous Sea Organ and Greeting to the Sun installations, its lively markets and cafes. You can also try its food, nightlife, and festivals.
Zadar is also close to other cool places in Dalmatia. You can easily go to Split, Sibenik, Trogir, or Dubrovnik by car or ferry. You can also visit the nearby islands of Ugljan, Pasman, Dugi Otok, or Kornati. And if you want to travel further, you can use the Zadar international airport, which is only 20 km away from this house.
Don't miss this chance! Contact us today to see this house or to make an offer. We would love to show you this house and help you make it yours.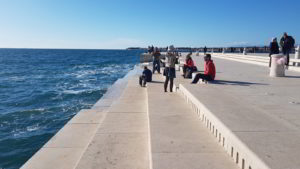 Find out more about Zadar area here.
Read more about this property here Croatia Zadar Novigrad area beach front house for sale.