About this Property:
SOLD!
(SI-L-1)
LUXURY VILLA FOR SALE ON THE SEAFRONT SOLTA ISLAND
LUXURY VILLA FOR SALE ON THE SEAFRONT SOLTA ISLAND is located in protected bay, with 50 square meter swimming pool, and 2300 square meter of land. In front of villa there is large mooring pier for large yacht, with electricity on the pier and stone plateau for dining and storage room on the pier.
Villa is hidden in pine trees, has 3 ensuite bedrooms in the main house. There are two additional ensuite apartments on lower level, under the pool level. Villa is surrounded with stone walls, no houses on the back side, only pine forest. Villa offers complete privacy even on the terraces in front, and especially on the back side terraces.
Those two apartments on the front are actually bedrooms with living area, bathroom and wardrobe, but small kitchenette can be installed as there is enough space for that, even terraces for each apartment are extra large so that apartments can be extended to part of the terraces, and on top can be built two or 3 more apartments which still will be under pool level.
There is extra large space which was used before as water tank which is next to the main villa, actually behind it, inside stone walls, 50 m2 or more of space, which can be turned into another apartment or wine cellar. on the first floor of villa there is small bridge connecting top of this water tank, which is large backside terrace and from there stone stairs lead to the land behind large stone wall. This part of land is covered by pine trees, and it is about 500-700 m2 of land here with fantastic panoramic sea view over the villa roof. There could be built one more villa or apartment house with pool.There is wired fence around this part of land on the border, the rest of border is made by stone walls or natural stone cliff. There are a lot pine trees that keep complete privacy of villa and this upper part of land.
Main villa has living room and dining area in open plan with entrance area where is stone well, only as decoration but must be dating 200 years ago, as the original old house which walls inside were kept partly in original stone, there is coat of arms/escutcheon on the front walls (near the main gates to the property). there is also electric opening of the gates connected from gates to the villa living room to open gates from living room. there are two large garages for cars. In the garage there are cables for electric power for yacht, because on the plateau in front of villa there is electric power to connect yachts when moored. on the mooring plateau there is small storage room which belongs to the villa, and whole mooring plateau is used only by villa owners.
Main villa has living room with dining area and entrance area in one space, overlooking the pool and sea, very quiet and calm. From the living room there is access to the outdoor sitting area covered for the shade. There is no outdoor fireplace, but there is ideally the place to make it, next to the large pot near the outdoor sitting area, or on the upper level near the small storage house on the back yard, but still close to the outdoor sitting area.
On the main villa ground floor there is separated kitchen with storage room, next is bathroom and loundry room, and on the other side of ground floor is one ensuite bedroom with bathroom, with its own sitting area, very comfortable and with entrance to the garden, near the outdoor sitting area.
On the first floor there is master bedroom with large terrace offering beautiful sea view and total privacy. This bedroom has its own large bathroom, sitting area and wardrobe. Next to this bedroom is another large bedroom with twin beds, this one has also bathroom with walk in shower, sitting area and separated small bedroom for nanny or service.
From this floor there is entrance to the back side terrace which is actually top of the water tank which is not in use any more and which can be turned into one more house or apartment or wine cellar.
There is automatic watering of the garden with system of pipelines. There are two ladies employed to maintain villa and estate.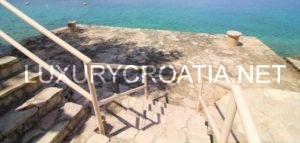 For information about buying a property in Croatia, click here: Buying procedure, costs and fees