About this Property:
Croatia Solta island villa for sale
Croatia Solta island villa for sale has 458.30 sq.m. and it is first row to the sea. Villa has jetty in front.
There are 5 bedrooms in this Solta island villa for sale. Villa for sale has 4 bathrooms with toilets. Villa was build in 1976., and it has been renovated in 2013. Kitchen in this villa for sale comes with new appliances and there is open space dining area in the villa. There are 4 fireplaces in this villa (2 indoor, 2 outdoor) and the whole house has central heating. Barbecue facilities are at your disposal in the villa for sale. There are 1183 sq.m. of the land surrounding the villa. Solta island villa for sale has one level, but there are additional buildings like garage for a boat and car. Villa has jetty in front where 20 meter length boat can be moored. Villa is located in a beautiful and peaceful bay on island Solta. The price for Croatia Solta island villa for sale is 998 000 EUR.
The small island of Solta is all about wine and olives. It is an island in the central Dalmatian aquatorium of the Croatian Adriatic Sea. It is situated only 9 nautical miles south away from Split, west of the island Brac and east of the Drvenik islands. Due to its close position to Split and regular daily ferry lines or catamaran arriving to the harbor of Rogac, it has good connections to the mainland of Croatia and furthermore to the rest of the Europe. There is a number of settlements for you to base yourself in Solta. There are large bays of Rogac and Necujam, with Necujam being the youngest settlement on the island and considered the most beautiful bay on Solta with crystal clear sea and shadows coming from the pine wood trees. If you were to explore the architecture of the Mediterranean's past, Solta's Gornje Selo is a place to go to, with a stone castle and two towers nesting in the town center.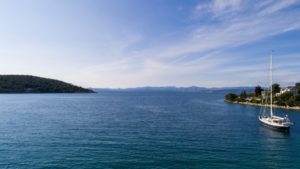 Read more about buying property in Croatia here.
Find the ferry schedule to Solta island here.