About this Property:
Stone waterfront house for sale on island Solta
Stone waterfront house for sale on island Solta has 120 square meters of residential area and offers beautiful view of the sea and the city.
House was built in 1750. but was completely renovated in 2007. The interior is made of high quality wood, and house has water and electricity connections installed. It is also fully equipped. House for sale consists of office space on the ground floor which can be transformed into restaurant, coffee shop or even a store and of 2-level apartment with 2 bedrooms, bathroom, kitchen with dining room and living room. It has a a separate entrance from the back side of the house. Price for Stone waterfront house for sale on Solta is 400 000 EUR.
The island of Solta is all about wine and olives. It is an island in the central Dalmatian aquatorium of the Croatian Adriatic Sea. It's situated only 9 nautical miles south away from Split, west of the island Brac and east of the Drvenik islands. Due to its close position to Split and regular daily ferry lines or catamaran arriving to the harbor of Rogac, it has good connections to the mainland of Croatia and furthermore to the rest of the Europe.
There is a number of settlements for you to base yourself in Solta. There are also large bays of Rogac and Necujam, with Necujam being the youngest settlement on the island and considered the most beautiful bay on Solta with crystal clear sea and shadows coming from the pine wood trees. Grohote is the oldest and largest town on Solta abounding with the rusty Mediterranean charm with narrow streets and a church with fresco paintings from the 14th century and a church of St. Stephen's.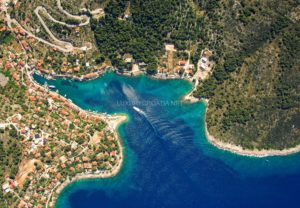 Find your route to island Solta here.
Find more about island Solta here.
Read more about this property here Croatia island Solta Stone waterfront house for sale.