About this Property:
Waterfront luxury villa for sale Trogir area Croatia
This waterfront luxury villa for sale Trogir area Croatia features a large living area of 300 square meters (3.230 s.f.). The living room, dining room, and fully equipped kitchen are located on the first floor of the villa. Also featured is an outdoor terrace with dining table arrangement to enjoy meals while overlooking a breathtaking sea view.
In addition to the main living spaces, the villa offers 4 spacious bedrooms each featuring a contemporary modern design and corresponding bathroom with shower. Within the property courtyard is a heated infinity pool with hydromassage.
Surrounded by the pool is a lounge area with sunbeds, coffee table, seating arrangements, as well as an outdoor barbecue. Villa has its own private parking. You can enjoy additional exclusive perks like an indoor gym, sauna, Apple TV with wireless surround-sound speaker system. AC is provided throughout the entire property.
Surrounded by lush nature, scenic beaches, amazing gardens, and easy sea access, the villa is a gorgeous property for a perfect escape in the captivating Mediterranean. This modern contemporary residence is within a short driving distance to numerous cultural and historical attractions in Trogir and Split, which are included in the UNESCO World Heritage List. Split international airport is 15 minutes drive.
Price for Waterfront luxury villa for sale Trogir area Croatia is on request.
Trogir, Dalmatia's hidden gem is a remarkable small town with 2300 years of tradition, set on a small island on the Adriatic coast of Croatia in the center of Dalmatia. Hiding not so far away from Split, only 27 km, it is connected to the mainland and with another island, Ciovo with bridges. The  historic city center is under the protection of UNESCO since 1997., recognized as a true example of urban continuity, an old town with a number of intact Renaissance and Baroque buildings  and churches from the Venetian period. You can really get a sense of the Mediterranean while sight seeing and wandering the narrow streets of Trogir, sometimes nick-named the town-museum.  Trogir is very well connected with the rest of the Europe through a good air network to  Split's airport. After you've reached Split, you can take a car or a bus, and you are in this beautiful old town within a few hours. You can also come with a boat, coming from the coastal cities of Italy, such as Ancona, Pescara, Bari or Venetia, and if you are coming to Trogir while cruising on your own boat, you will surely find a port for you to anchor in and enjoy, either the ACI Marina Trogir, Trogir Waterfront or on the island Ciovo waterfront.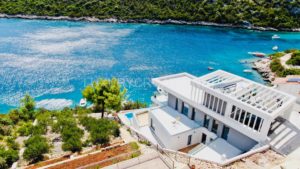 Read more about Trogir here.
Read more about this property here Croatia Trogir area luxury villa for sale  .