About this Property:
Croatia Trogir area beach front villa for sale
Croatia Trogir area beach front villa for sale has 180 square meters, while the whole lot size iz 294 square meters. It is situated directly on the beach.
Villa has 2 levels with 4 bedrooms and 4 bathrooms, a spacious and equipped kitchen, and a living room. All of the rooms in the beach villa are bright and facing the sea, so you can relax and enjoy the view of the Adriatic and the coast. There is also a beautiful terrace and large swimming pool. Villa has an outdoor dining area and gym with fitness equippement. Price for Croatia Trogir area beach fronz villa for sale is 895 000 EUR.
Trogir is a historic and picturesque town and harbor, founded by the Greeks in the 3rd Century BC. Trogir offers more than just ancient history, as in architectural and cultural monuments that are recognized even by UNESCO, such as the famous Kamerlengo castle, The Duke's palace, The Cathedral with the portal of Master Radovan, city gates and city walls.
LuxuryCroatia.net is Real Estate Agency that has 10 years of experience in sale of all kind of Croatian properties. Our small but dedicated team of experts can search and find your adequate property, if you can't find it in our listings of more than 1500 Croatian properties for sale. We are locals, Croatians, with experience in sales of properties and have visited all Croatian coastal and island destinations and locations, so that we can help you with advice about amenities of location that is of your interest. We know every inch of our country, every village, bay, island, we are proud of Croatian rich heritage and history.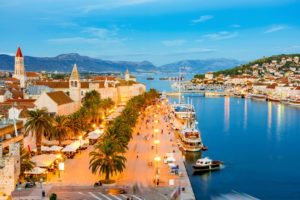 Find your route to Trogir area here.
Find out more abou buying property in Croatia here.