About this Property:
Beachfront land for sale Croatia Trogir Riviera
Beachfront land for sale Croatia Trogir Riviera has 1100 square meters and is positioned right next to the sea with direct access to the beach from this property.
Land has about 18 meters border along the sea and over 70 meters long. Car access is from the back side of this land, with electricity and water connection from that access road. On the sea side there is walk promenade and pebble beaches with beach caffee bars. Land has flat surface so construction of villa will have no extra cost for deep excavation works to elevate the terrain. Trogir center is few kilometers away. Price for Beachfront land for sale Croatia Trogir Riviera is 790 000 EUR.
Trogir, Dalmatia's hidden gem is a remarkable small town with 2300 years of tradition, set on a small island on the Adriatic coast of Croatia in the center of Dalmatia. Hiding not so far away from Split, only 27 km, it is connected to the mainland and with another island, Ciovo with bridges. The historic city center is under the protection of UNESCO since 1997., recognized as a true example of urban continuity, an old town with a number of intact Renaissance and Baroque buildings and churches from the Venetian period. You can really get a sense of the Mediterranean while sight seeing and wandering the narrow streets of Trogir, sometimes nick-named the town-museum. Trogir is very well connected with the rest of the Europe through a good air network to Split's airport. After you've reached Split, you can take a car or a bus, and you are in this beautiful old town within a few hours. You can also come with a boat, coming from the coastal cities of Italy, such as Ancona, Pescara, Bari or Venetia, and if you are coming to Trogir while cruising on your own boat, you will surely find a port for you to anchor in and enjoy, either the ACI Marina Trogir, Trogir Waterfront or on the island Ciovo waterfront. There is a lot to see in such  a small place, so keep your eyes wide open while o  bserving what Trogir has to offer, such as a well preserved castle and a tower, palaces and cathedrals from the 13th century.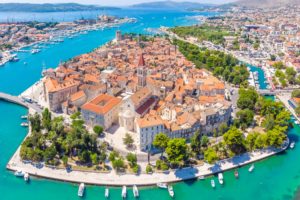 Find your route to Trogir here.
Find out more about Trogir here.
Read more about this property here Croatia Trogir Riviera beachfront land for sale.