About this Property:
Croatia Silba island seafront land for sale
Croatia Silba island seafront land for sale has 1261 sq.m. It is positioned first row to the sea.
Just in front of the seafront land there is a pebble beach. Therefore, the land itself offers a beautiful view of the Adriatic sea. It has road access. Price for Croatia Silba island seafront land for sale is 329 000 EUR.
Silba is an island in Croatia with an area of 15 km² in northern Dalmatia. It is south-east of Lošinj, between the islands of Premuda and Olib. Silba's only village is also Silba. It is located at the narrowest point at the island. There are a lot of small beaches and bays in Silba, where you can enjoy swimming and sunbathing in the clear and unpolluted waters of Adriatic.  The island is located fairly far from the mainland. However, getting to Silba is easy. Silba is well connected by ferries from Zadar, Mali Losinj, Pula and Venice as well as the other islands in Zadar Archipelago. You can visit the island of Silba by chartering a boat, taking a catamaran from Zadar or Pula or by your own boat if you have one. You can discover hidden coves and beaches, stroll the numerous pathways on the island, swim in the crystal-clear turquoise sea or enjoy the quiet charm of the village. Make sure you climb up Silba's most popular landmark – Toreta. It is an impressive octagonal lookout tower with a spiral staircase. From there you can enjoy the wonderful view of the surrounding islands.
LuxuryCroatia.net team is real estate broker with 10 years of experience in real estate sales in Croatia. Our team will guide you through the buying procedure, give you all relevant advice and successfully complete your process of purchase. We provide you with complete information and instructions about way to buy property in Croatia. There are some small differences in purchase procedure in Croatia compared to other EU countries, and we are here to inform you and guide you through all the process. Testimonials of our happy clients speak about our work. Most of information in case you plan to buy property in Croatia, you will find on this website.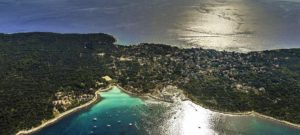 Read more about buying property in Croatia here.
Find the ferry schedule to Silba island here.
Read more about this property here Croatia island Silba waterfront land for sale.