About this Property:
 Waterfront land for sale on Dugi Otok island
Waterfront land for sale on Dugi Otok island has 1109 sq.m. This land is located in the first row to the sea.
The land is located on Dugi island close to the ferry port. There is a valid building permit for waterfront land and you can build an object up to 1200 sq.m. which can be used for living, family vacation house, or even  apartments for rent. The land is located in a quiet and peaceful bay. The price for the waterfront land for sale on Dugi Otok is 175 000 EUR.
Dugi Otok is an island located close to Zadar on the mainland, and is the largest among the islands located in this part of Dalmatia. Its name literally means 'long island' and is known for its vineyards and orchards. The most famous beach on Dugi Otok island is Saharun beach in the north. There is also Telascica Nature Park that covers the southern part of the island and Kornati National Park just south of Dugi Otok. There is a year-round, daily Jadrolinija car-ferry from Zadar to Dugi Otok island.  It is 1 hour and 10 (or 20) minutes ride.
LuxuryCroatia.net team is real estate broker with 10 years of experience in real estate sales in Croatia. Our team will guide you through the buying procedure, give you all relevant advice and successfully complete your process of purchase. We provide you with complete information and instructions about way to buy property in Croatia. There are some small differences in purchase procedure in Croatia compared to other EU countries, and we are here to inform you and guide you through all the process. Testimonials of our happy clients speak about our work. Most of information in case you plan to buy property in Croatia, you will find on this website.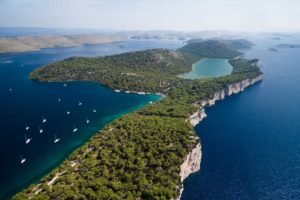 Find the ferry schedule to the Island Dugi otok here.
Read more about buying property in Croatia here.
Read more about this property here Croatia island Dugi Otok waterfront land for sale.